One of the things I like least about traveling is the very initial phase of planning and researching flights, comparing fares, and figuring if it's worth paying $100 more to have a non-stop flight (it always is). The new Orbitz app, as we mentioned recently, has a cool interface which makes finding a flight easy. And now there's another you definitely want to know about.

The
Hipmunk app
is a complement to the popular
Hipmunk
website,
and lays out your travel options in a funky way. Rather than simply listing
out all the options available, it sorts choices into a easy-to-read
bar graph that you can arrange by cost, departure time, length, and my
personal favorite–agony. Seriously.
The agony view
factors everything into consideration and presents you with options,
based on how agonizing your flight will be. Go on a flight with two kids
and two layovers and you'll understand the algorithm in a second.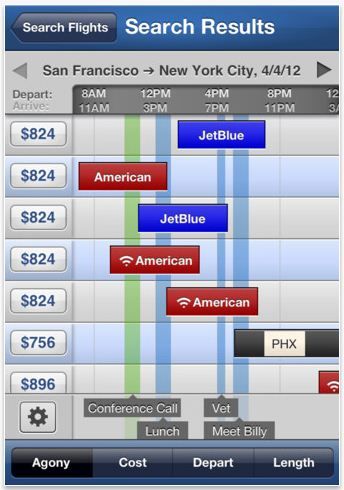 On the hotel front, you can sort by
the typical categories or rely on its quirky Ecstasy tab to get the
low-down on which accomodations offer the best amenities, price and
location.
The least agonizing flight with the highest ecstasy-rated hotel sounds like a pretty good trip to me. -Jeana