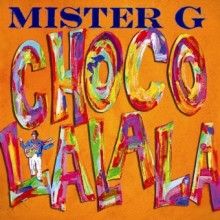 In my neck of the woods, all eyes are on the trees to see when the colors of fall start putting on their gorgeous show. Add that to two kids who are itching to learn Spanish this year, and I'm so pleased to have found a great song to get some of the most common colors down just in time to point to the trees and announce, Rojo!

Colores,
off of Mister G's bilingual kids' music album
Chocolala,
introduces kids to a rainbow of colors with a latin-flavored beat. Need help with lyrics?
Yeah, I needed
the songbook
to keep me from singing "tacos" instead of "tantos." Unfortunately there is no translation for
Go grab a rake and help us out here
. We'll just say that in English. -
Christina
Grab a copy of Mister G's Colores from our affiliate Amazon.