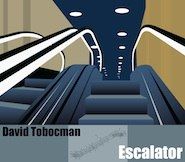 I have one child who is incredibly agile and athletic, yet she is also the one to walk into every door jam, trip on the tiniest toy, and—in general—bang herself up about ten times a day. This song goes out to her, and all those kids in the unofficial Frequently Bandaid Club.

The Owie Song from film and television composer David Tobocman's new release Escalator is a humorous tune about that moment when you find yourself jumping up and down, while holding a foot or elbow, and yelling OW! over and over again.
And while those moments may not sound super fun,
The Owie Song
is definitely a good time with its lighthearted, Jimmy Buffet-esque sound and silly chorus. My accident-prone child may be the one singing along the loudest. Or maybe she just pinched her finger.
-Christina