When I was searching around for a super protective case for my new iPhone 5, two names always came up: OtterBox and LifeProof. The only problem is that I had a hard time deciding which one was best for me. And based on your questions, I know I'm not alone.
While neither case is known for their style, they are recognized as some of the most protective cases out there. So, I spent some time with the new iPhone 5 cases from both OtterBox and LifeProof to help figure out which case is best for my needs, and maybe yours too.
OtterBox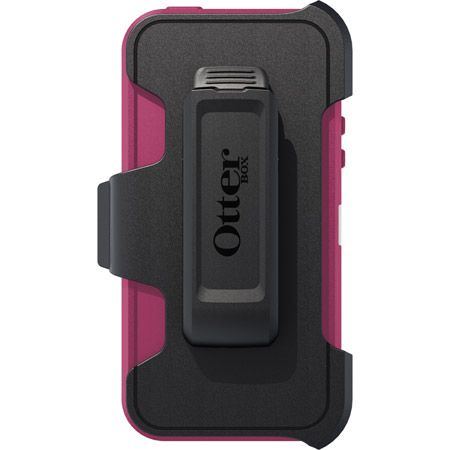 Plenty of parents are familiar with OtterBox cases, which, by the way, come in a variety of styles for Androids, Blackberry phones, and range from a lower protection line to their Defender series, which provides the most all-around coverage–literally. And you'll know it because it is a hefty case. Indeed, this is a gigantic case. Size and appearance aside, the  OtterBox iPhone 5 case is really designed to keep your phone safe from dust, dirt, and the big one, drops.
Keep in mind, you will have to take your phone out of the case to dock it, but charging it with a cord is made easy with handy flaps that can be opened and closed, and a belt clip, if you're into that sort of thing.
And while the phone is not waterproof, between the cushioning and the two protective layers and the hard plastic screen cover (which is quite responsive), I'd be okay knowing that if a little juice dropped on it, the phone would be relatively safe. A toilet drop or toss in the pool? Not so much.
Bottom line: If you can live with the huge size and no waterproofing, but want extra protection against the elements (like kids) and drops, go with OtterBox. It's also about $40 cheaper than the LifeProof case.
Related: The OtterBox Resurgence brings battery-charging capability to a protective case
LifeProof

I noticed right away how slim the LifeProof Fre iPhone 5 case (available for Apple gadgets only) is compared to the OtterBox, but perhaps size doesn't matter in this case, as it does provide complete, sealed protection against everything from dirt to snow and yes water. That means if you (or your kid) accidentally drop it in a tub, you're safe.
You will have to test it out yourself, however, to make sure it's ready for water action, without your phone inside of course. Thankfully, the instructions are clear and easy to follow, and once you have the case on, you can pretty much use your phone completely worry free, a huge bonus for such an expensive gadget. Liz's own sigOth has gone in the pool with his phone in his pocket (accidentally) and it's been totally fine, thanks to the LifeProof.
Related: The LifeProof Nuud case sleekly protects your iPad mini, even from water
And it's great that you have access to all your ports, which makes it easy to charge or plug in headphones.
Like the Otterbox case, the Lifeproof isn't necessarily a looker, but it is slimmer than the Otterbox and it's definitely made for function. Though keep in mind the LifeProof for iPad really does make the case significantly more bulky–which could impact the case you carry it in.
Bottom line: If you're willing to spend $80 on an iPhone case, but want something that's both sleek and protective against all elements, including water, you want the LifeProof. Especially if you tend to let your kids use your phone.

You can purchase the OtterBox and LifeProof Fre cases on their websites
Update: Since publication of this article, LifeProof for Android phones are available too.