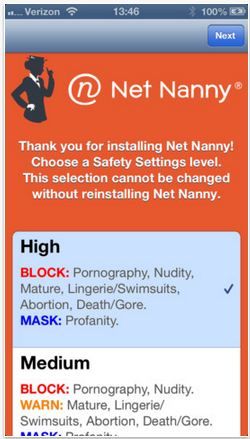 As parents, we're huge proponents, obviously, of Internet safety and the many tools and services to help us out in that arena. We've recommended the Net Nanny software previously, and phew, we are finally glad to see that it has caught up with a new iOS version to accompany its Android app.
There's nothing extremely fancy with the new Net Nanny iOS app. But in these situations, you don't need fancy, you just need it to work – and it does.
The app simply gives you a browser that you can control and has three control settings (low, medium, high) on how much search content is blocked. High blocks everything you'd expect it to–sexual content, nudity, death, even lingerie (!)–while low just covers the basics of pornography and nudity.
Its purpose is to replace your Safari browser (which you should disable) on your iPhone or iPad, so the browser looks the same, only you can control what is seen.
You can designate if you want the primary search engine to be Google, Bing or Yahoo! and the control setting you designated will determine the level of access. Within the app, you can also bookmark pages and search browsing history so you can see what your kids are looking up.
For the $4.99 price tag, it would be nice if the app had more customization options, like selecting specific key words, blocking certain sites, etc., but the high setting probably takes care of that automatically. And now that my young son is getting real homework assignments that are sending him to the Net for research, I'd say anything to keep him from stumbling upon inappropriate content is definitely worth the price. -Jeana
Net Nanny for iOS is available on iTunes for $4.99.