I read your post on removing your information from Spokeo and have a question: How often do you need to go there and remove yourself? Also, is anyone doing anything to protect citizens' privacy? Displaying this information without an individual's consent should be a criminal offense! -Heather
Heather, great question. We urge everyone check for their information on Spokeo and take the steps necessary to remove the information immediately. Our post on removing your information from Spokeo has step-by-step instructions.
Once you have done that, unfortunately, the removal is not a permanent thing, so we recommend that you periodically check the site–every three months or so–to make sure your information is still absent from the database.
Those who are more active on the Internet, do a lot of online purchasing, browsing, social media-ing, and so on may want to do even monthly checks.
Of course there are lots of other sites besides Spokeo but since that's one of the biggest, it's relatively easy to opt out, and it's free, it's a smart place to start.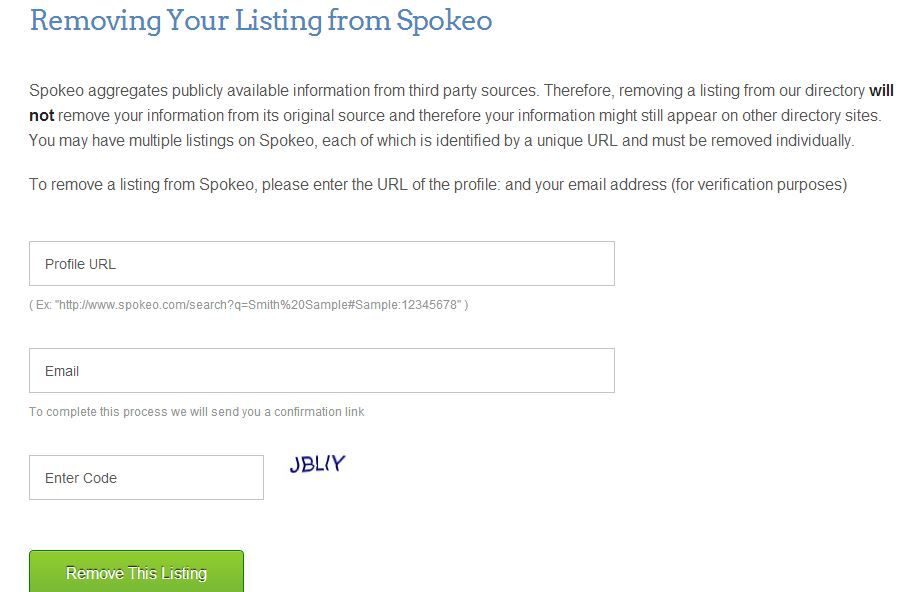 There are also "people search" sites that charge to share your info (we find that deplorable) but at least the fees prohibit the general public from poking around too much. Not to freak you out, but you'll have a harder time getting your info off of Intelius, Zaba Search, or People Lookup which will provide your address history, relatives and more "public records" for about 3 bucks.
The truth is, you could fall down the proverbial rabbit hole trying to rid your info from the dozens of sites and services that mine your public records so we'd urge you not to get too paranoid. Our hope is that it will be better regulated soon–but unfortunately it's tough. Because there is so much data being gathered about you every time you shop online or browse, it is hard for the FTC to regulate the way in which every single site gathers information.
Most sites gives you an opt-out privacy feature, and can be in violation of FTC privacy laws without one, but it's not a default setting and is one you usually have to seek out yourself.
Also, know that a lot of data that you consider to be "private" is gathered from public records like a public Facebook or Google Plus page; voter registration and campaign donations; driving records; mortgage info; marriage certificates; and of course home addresses and phone numbers.
While there are many upsides to being online constantly, this is unfortunately one of the huge downsides that hopefully will get more stringent FTC regulations in the very near future. For now, all we can do is monitor information, aggregate sites like these, and do what we can to protect our privacy without getting too crazy. –Liz