If anyone needs to find great weather apps, it's me. The weather in Colorado is wonderful, but it's also really weird; I've seen it snow without a cloud in the sky, and I can run comfortably in a tank and shorts on some winter days. So you might say our weather requires a sense of humor. And some technological help.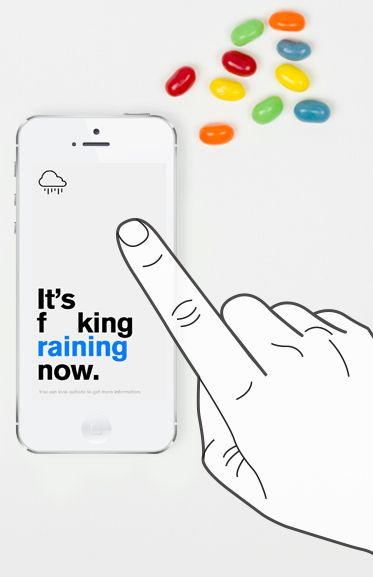 Authentic Weather ($0.99, iOS; $1.32, Android)
Authentic Weather bills itself as the most honest weather app. It tells you straight up what it's like outside, and the weather conditions are always punctuated by an f-bomb. So it's not for kids or those with tender ears. But for those of us who could use a laugh when it snows in May (no joke), I predict Authentic Weather will do the trick.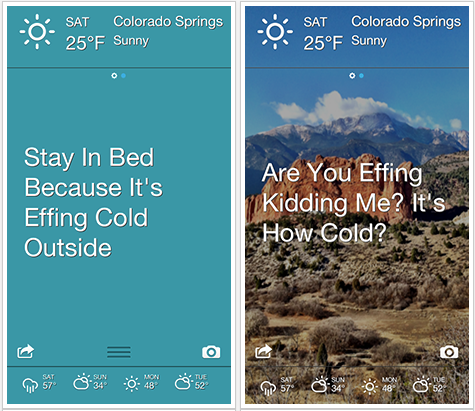 The Effing Weather App (Free, iOS)
While we're talking profane weather forcasts, not only does The Effing Weather App give weather conditions, it also offers advice like "stay in bed" and dishes out playful insults. ("It's a little effing cold if you wanna be a wuss about it.") Use the default temperature sensor background–blue for cold, red for hot–or change it to your own picture. You can also toggle between "effing" and actual f-bombs using the app settings, but again, this one is adults only.
Weather Kitty + Weather Puppy (Free, iOS; Coming soon to Android)
Don't worry, some funny apps are indeed kid-safe. In fact now that I put Weather Kitty and Weather Puppy on the iPad and iPod Touch, my own kids are happy to look up the weather themselves for the first time, instead of asking me. Several times a day, in fact. You can upload pictures of your own pets, but I personally prefer Grumpy Cat. Though I was surprised she didn't show up when it snowed here on Friday. (Yes, Friday October 4. For serious.)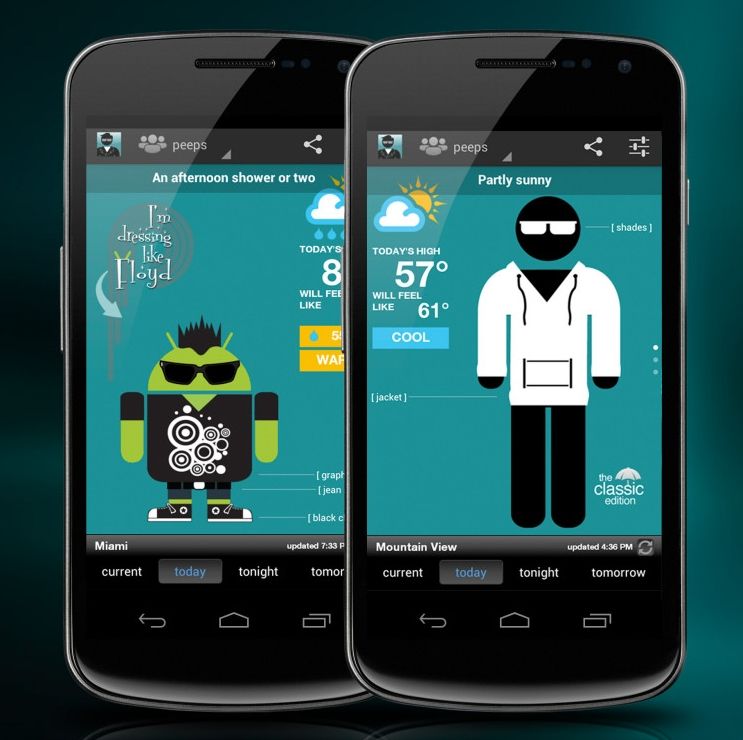 Swackett ($1.99, iOS; Free, Android)
The Swackett weather app combines forecasts, fashion, and famous people. Swackett "peeps" dress for the weather to help remind you of what to wear and bring along, like an umbrella or sunscreen. Occasionally Swackett will feature Easter Egg peeps–celebs or other well-known people in honor of a special event. Say, Sting's birthday or the fall premiere of Homeland. Both very special to us indeed. An iOS 7-optimized version is expected to launch soon in the US. –Julie
Don't miss other weather apps we love, like SOLAR and Yahoo! Weather.