Do you know the way to San Jose? Google Maps does, and so does Waze (We didn't ask Apple Maps) which is why we pit them against each other in a Google Maps vs. Waze smackdown. So which one of these navigation apps is the better bet to get us to where we're going, on time, and in one piece?
First off, in case you don't follow the tech trade news, Google acquired Waze last summer. Waze is still operating independently though, and we haven't seen any public plans for integration. The unofficial consensus seems to be that Google bought Waze for its awesome user engagement — and to keep it out of the hands of Apple and Facebook. Which we think is pretty smart.
But which navigation app should you use? Here's what I found during a recent trip to Los Angeles, which has to be about the best place ever to evaluate Google Maps vs. Waze.
Google Maps App
Google Maps has long been a top navigation app on both iOS and Android, and its latest update is getting rave reviews. The maps are gorgeous, the real-time traffic information and transit time data is extremely valuable, and the add-on features (like essential venues along your route) are a cool extra without getting in the way of the app's main function: Getting us from point A to point B.
One huge advantage of Google Maps is the integration of various forms of transportation, like walking, cycling, and public transit. It's helpful to have one app for step-by-step directions and total anticipated travel time, especially since most people who use public transit do so in combination with walking or driving–or even biking these days.
Another reason to love Google Maps is that you can see what places you might find while you're en route, like restaurants and coffee shops and drugstores; as well as to see how far out of your way those stops might be, regardless of how you're traveling. Do I have time for a sit-down lunch, or do I need to eat and run? Can I linger at the drugstore or should I grab those cough drops and go? Google Maps actually helps you budget your time.
Finally, Google Maps incorporates traffic data via Waze, and dynamically re-routes you around major snarls like any good GPS. Brilliant.
Honestly, I don't find any glaring issues with Google Maps, either using it myself or in reviews online. Most of the complaints on the internet concern advertising on the app, which I find relatively unobtrusive. But I did snort at the text-to-speech translation of LAX to "lax."
So who should download Google Maps? Everybody. Even if I know exactly how to get where I'm going, I love being able to see what's between me and my destination. It might even remind me to return the library books, stop for a latte, or even the craft store to pick up poster board for that school project due tomorrow.
Waze Navigation App
I actually first heard about Waze from a friend who lives in LA, and it seems to be a must-have app across the whole state of California. It's a GPS navigation app that gives turn-by-turn driving directions, either to a saved destination or to one that you've searched for. But what makes Waze so compelling is the real-time traffic data that pops up along your route, based on both active and passive feedback from other Waze users.
Active feedback means that Waze users can report accidents, heavy traffic, speed traps, and other data that could affect someone else's trip. It's crowd-sourced traffic data, which is pretty amazing. Kind of like the Undercover Tourist Disney App only on a way larger scale.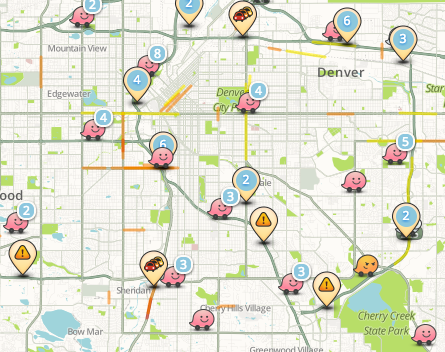 Equally amazing is how Waze gathers passive feedback — just by users driving their normal routes with Waze running in the background, which gives Waze information about how traffic typically flows on those roads, along with other data points to help improve maps and directions for others.
As evangelical as the Waze community can be, I did find lots of complaints about its user interface, including teeny buttons, multiple steps to activate commands, and voice functions that require deep digging in the settings menu to enable them. Waze users have also grumbled that text-to-speech directions are a bit slow in the response department, which can make it tough to get into the correct lane in time for a crucial turn.
But because Waze's strength is traffic data, it's not the app for you if all you want is walking or public transit directions.
Who should download Waze? Anybody who ever drives. Not instead of Google Maps but in addition to it. If your car is like your second home (Los Angelinos, I'm looking at you in particular), Waze was made for you. It could even be the key to getting to work–or a commercial audition across town–on time.
If you're like me and normally drive in a small radius between school, the grocery store, and swim practice, there's no real need to use Waze on a daily basis. But if you are racing to the airport and suddenly see flashing lights ahead and police taping off an accident scene, you will be extremely glad you downloaded this smart, free app.
Get Google Maps for iOS on the App Store and for Android at Google Play. Get Waze for iOS on the App Store and for Android at Google Play. Both apps are free!