Best Buy Wish List is a sponsored series in which we feature the
things we're coveting at Best Buy–and then give away gift cards so you can buy them yourself. Whee!
With six kids between us, our movie theater is our home television. And really, with all the money we'd spend on a sitter and a jumbo tub of popcorn (practically the same price these days), we'd just as soon ask Santa for a fabulous home theater system this year.
Besides, no one kicks the back of our seats at home.
If you've got a household of TV, movie and general entertainment fans like we do, Best Buy really does have an amazing selection all in one place. You'll find the slimmest internet-ready HDTVs, blu-ray players, the crazy new 3-D TVs, and every thing in between. Plus the Blue Shirts and Geek Squad Agents will make sure you know what you're doing before they send you off with your fancy new equipment. Amen to that.
Along with our very own popcorn maker, here are the home theater goodies we found at Best Buy that are topping our wish lists this year: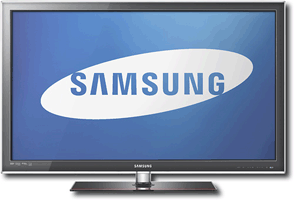 We'll take one Samsung 55 inch LED/LCD internet-connected holy mac daddy of televisions, please. (And now excuse Kristen as she wipes the drool off her husband's chin.)

Of course you can't play regular old DVDs on our brand new fancy TV. But instead of a mere Blu-Ray player (this being a wish list and all) we'd opt for a complete Blu Ray Home Theater System. The Samsung one comes with a subwoofer, 4 speakers, and an iPod dock.
Of course, having lots of AV goodies means having lots of remote controls. We'd minimize that with the top-of-the-line Logitech Harmony One which can manage up to 15 devices at once. You know, should we have 15 devices. (What? It's a wish list!)
EXTRA EXTRA COOL: WIN IT! Turn your wish list into a reality, mamas, because we're giving away two $500 gift cards to Best Buy!
WHOO!
And for all you last-minute shoppers out there (you know who you are) don't forget about Best Buy's Santa Sales event through today in-store and tomorrow online (you know, in case you need a little respite while the turkey cooks) so you can still snag great deals on tech gifts this holiday.
[see details after the jump]


Congratulations to our two lucky winners of a $500 Best Buy gift card: Kellie C. and Melanie D.
Also, follow Best Buy on Twitter and like the Best Buy Facebook fan page for plenty more great deals, events and updates.
The opinions here are solely that of Cool Mom Tech. Maybe a few other people.