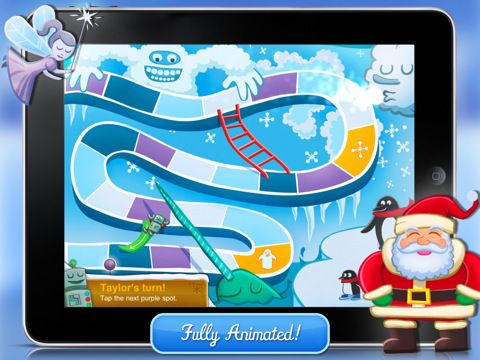 Before the kids go to bed and Santa's elves get busy wrapping gifts, we spend Christmas Eve drinking egg nog, playing games, and watching movies with the kids. But now that we have the iPad, we'll probably add a round or two of a digital board game into the mix.



The Winter Land iPad app by Tangorang Labs
is basically a holiday Candyland for up to four players. When it's your turn, which is smartly notated at the bottom of the screen, you pick a card
from the scrolling screen, then touch the space where your character has
to move. Every now and then, you'll get to spin a wheel or play a timed
memory game to earn spaces, which does help to change things up a bit.
The graphics are quite stunning and make the game come alive as the
characters as the move across the interactive board. Since it is
digital, however, you can't stack the deck (ahem), so the game can go on
for awhile. But like the real, sometimes very tedious Candyland, my
kids love it. So who's going to argue with that? Just keep the egg nog
flowing. -Kristen
You can purchase Winter Land at iTunes.