I'll be honest, I've always had a secret wish to write a children's book. But for now, I'll have to settle for simply living vicariously through the stories my children are creating on this cool new book-making app.
With hardly any learning curve, the Picturebook app allows children (okay, and their moms) to easily create and share their own self-authored books. With templates to choose from that look just like the real deal, your kids can type up a story of their own and drag and drop in a a variety of illustrations to bring their book to life and truly make it their own.
The app comes with a bundle of pictures to get you started and additional sets can be purchased in themes like farm animals, Cinderella and ninja. (And for a limited time, in celebration of Talk Like A Pirate Day, a bundle of pirate illustrations are included in the app.)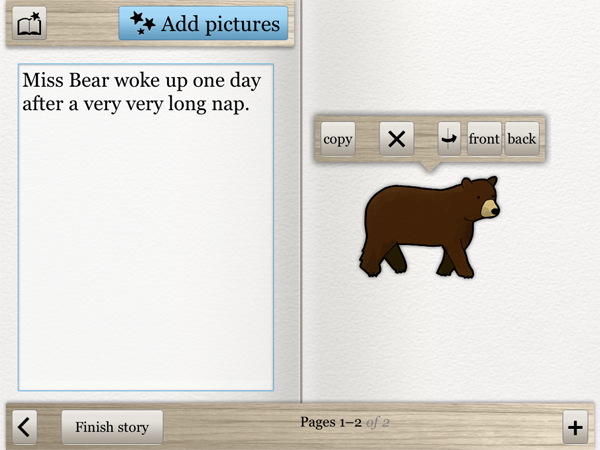 It seems like these app-creators have thought of everything–the clacking of a typewriter as your children write up their stories, and tons of flexibility and ease in creating great pictures to go along with the story. Pictures can be pinched smaller or larger, rotated, flipped and even brought to the front or back of other illustrations on the page. Once your stories are finished, you can swipe through and read them like any other ebook and even share them with family or friends (who also need to have the app on their device).
Even smarter: the newest update will include a toddler lock which will eliminate any accidental purchases of more picture bundles.
It should be noted that the app doesn't include any auto-correct or automatic spell-check. You'll get their stories inventive spelling and all, something this mama really likes. -Molly
Picturebook is a free app available in iTunes.