The other night, I was flipping through the channels and stumbled upon the very end of one of my absolute holiday movie faves, It's a Wonderful Life. (You too?) While I'm sure it will be on again soon, many times, I'd like to be able to watch the movie whenever the holiday mood strikes and not wait for the whims of the network execs to broadcast it. I quickly realized that getting a streaming video player is the easiest (and can be the cheapest) way to achieve this.

Whether your holiday favorite is
It's a Wonderful Life, Christmas Vacation
or
Ernest Saves Christmas
–though I hope not–the holiday protagonist of your choice can be on your screen anytime with these three great streaming media devices that you might not know about.
Roku (shown above) has
always been known for its awesome
streaming media players
, but it
recently just announced a $49 player; essentially, the same
cost as a few movie tickets and popcorn. The Roku LT offers HD video,
built-in wireless and access to more than 300 channels including HBO Go,
Netflix, Hulu and Amazon Instant Video. ($49 from
amazon
, our affiliate)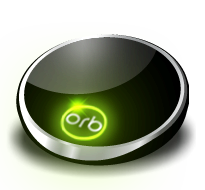 The Orb Live system
is one
we've recommended
before
and is another way to get your
favorite movie stars into your homes. (Bradley Cooper is welcome in my living room anytime.) With Orb Live and its OrbCaster software, you can
instantly get any media files you have on your computer–from Hulu,
Sirius Radio, Netflix and more–onto your TV or mobile devices through
its dedicated apps. ($99 from
orb.com
)
The ScreenCast creates a virtual cord from
your laptop to your TV, not only letting you access movies and online
content, but also photos and the Internet. The series includes three different models, the top of the line being the
wireless AV to HDTV adapter
that lets you include all your gaming and other devices too. We love it so much, we included it in our
hot holiday tech gifts
of 2011 list. Set-up is simple, all you
have to do is connect the device to your TV and then launch a software
program on your laptop. The TV will then mirror everything you see on
your PC and then you're free to use Netflix to stream all the Bradley
Cooper– I mean, holiday movies you want. ($83-$239 on
amazon
)
-Jeana