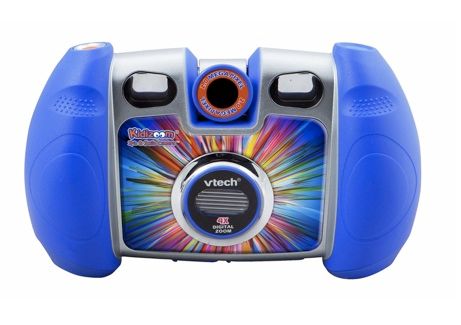 I'm looking into a camera for my 4-year old. Any recommendations? Thank you!
Jeannine
When it comes to cameras for a four year-old, the main thing I care about is durability since I know they will drop it at least once a session. But, I also don't want a toy, I want a camera that can actually take semi-decent photos–even if those photos tend to be blurry shapes since my son can't remember to hold still when he "clicks."

With those things in mind, here's a trio of kid-friendly cameras that any preschooler would love to receive this holiday. –
Christina
The
VTech Spin & Smile Digital Camera
(shown at top) gets great reviews and is curently under $50 (with free shipping) on our affiliate Amazon. The lens rotates so that your child can take self-portraits—I am sure my son would take 1000 self-portraits of the inside of his mouth, so I'm just warning you. The special effects that can be added to the camera are really easy to do, and the goofy little games entertain my son quite a bit. I think it'd be a great first camera for any young photographer.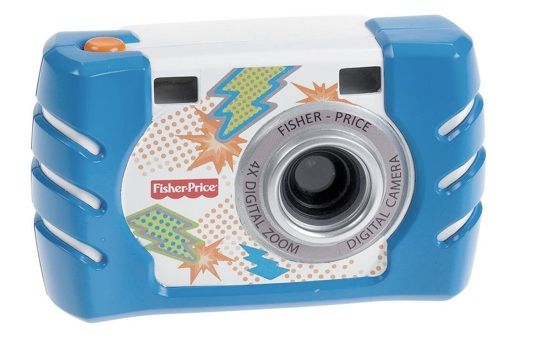 This
Fisher Price Kid-Tough Digital Camera
has less bells and whistles than the VTech camera, but is a great option if you just want an easy-to-use beginner camera that can sustain lots of drops and rough handling. It's also got some basic editing functions like adding frames and stamps. It runs under $40 on Amazon with free shipping. And it's nice to know the inbuilt memory can store more than 1000 photos, since we all know how good we can be at downloading each day. Ahem.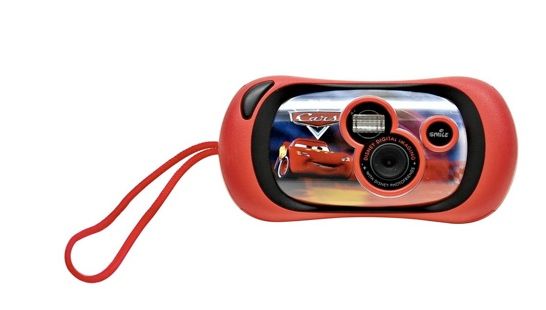 Finally, while we aren't in love with licensed-character overload, this easy-to-use
Digital Blue Disney Pix Jr. Digital Camera
would be a BIG hit with any
Cars
lover. It gets great reviews with parents of even really little shutterbugs, and I know my kids would love how you can add Disney characters to the images. There's also a
Disney Princess camera
should your kid require Ariel's endorsement to get her interested photography. All these characters don't come cheap though, as this camera is closer to $70, but a true Disney fans will be over the moon.
Please note that camera prices on Amazon may fluctuate from day to day. Your price may be lower, or higher, than what is listed above.