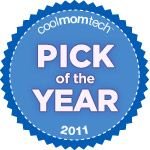 While not every one of these websites are brand new, these are the ones that we fell in love with in 2011, may of which experienced terrific upgrades and improvements that make our lives a lot easier or more entertaining. Culling from reviews on both Cool Mom Picks and Cool Mom Tech, we hope these 15 sites are all here to stay.
Pinterest
Liz
: Talk about going from 0 to 60 in about 0 seconds–Pinterest seems to have gotten huge, fast, and no surprise. It's making plenty of us very very happy. (Hey, you can even follow us
there as
Cool Mom Picks
or
Cool Mom Tech
!) It's like the perfect social media network for those who prefer pretty pictures over 140 typewritten characters.
Spotify for US
Kristen
: I was wondering what all the Spotify hub-bub was about, so much so that I tracked down an invite to see for myself. And let's just say it's what I use every day to listen to music, whether it's tracking down my fave songs and making my own fun playlists, or connecting on Facebook to subscribe to my music-loving friends' lists.
Hello Fax
Kristen
: When my fax/scanner/printer bit it earlier this year, I thought I was going to be in big trouble until I met HelloFax.com which allows you to complete and sign then email or fax your uploaded documents. It's amazing.
Kickstarter
Liz + Kristen
We love how this philanthropic website has taken off this year. It's not just a cool way to support projects you love, it's a great source to discover the best cool toys, documentaries, local restaurants, and other
indie projects
of the future. Plus, you get to feel like your very own modern day Medici.
Hopstop
Liz
: Providing transportation routes and maps for more than 50 US cities, I'm on here weekly. While not a new site, they've added great features this year that moms can appreciate, including wheelchair/stroller accessible routes, calories burned and CO2 savings. Smart.
Bing Travel
Liz
: Booking travel is like playing the stock market, and not in a good way. You never know if the person sitting next to you paid half as much for the same ticket. Bing Travel's smart algorithm helps you game the system (in a good way) by suggesting whether ticket prices are going up, down, or staying the same.
Mommy Poppins Boston and LA
Kristen + Liz
: Kudos to our very favorite local family listings site–It's about time they've made the leap from the New York area to take on Boston and LA and help more parents figure out just how to spend their weekends with the kids. Atlanta next, hint hint?
ThanksforTeaching.US
Liz
: As the daughter of an educator, I simply adore this site which allows you to thank a teacher or search for inspiring stories from past students. Whether it's the one who helped make you the who you are today, or a homeschooling parent, the great teachers of this country deserve all the gratitude they can get.
Khan Academy
Kristen
: One visit to Khan Academy and you'll not only be blown away by the amazing content (everything from math lessons to art history and everything in between) but you'll wonder how it's possible that this genius educational site is free. You'll be as mesmerized as your kids.
Kidzvuz
Liz
: This
online site for tweens to share their favorites via video uploads at
first just seems like YouTube Jr. But then you realize the potential
it has for book reviews, or marketers looking for authentic feedback and
it seems like it might really go places.
Volunteer Spot
Kristen
: I love how Volunteer Spot takes the hassle out of organizing events, school parties, and everything else that usually requires tons of needless emails. In fact, it's so simple that you get to focus on the fun part — actually throwing the event itself.
Listgeeks
Liz
: I love lists. Therefore, I love list geeks. Perfect 10 minute time-killer during conference calls. I mean uh…during commercials.
Android Market on Amazon
Kristen
: Can I tell you how happy I was when Amazon launched their Android App Market? Finally an easy, searchable way to find droid apps, plus a cool free one every day. Now if they only figure out how to make better droid apps. Heh.