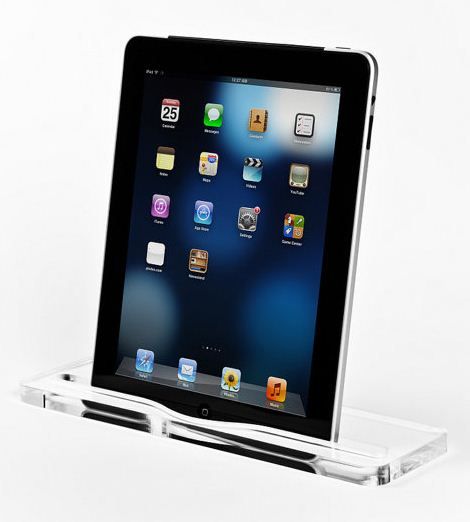 The other day, I was reading a recipe off my iPad while cooking and while scrolling down, knocked the device from the shallow groove that it was propped on and…anyone have any tips on how to get flour out of an iPad crevice? My iPad case is beautiful yes, but functional, not so much.

If you've had an iPad kitchen fail like me, you
might already be eyeing the
Belkin
Chef Stand
. Another option: this very simple and sleek
Tab iPad stand
found on Etsy. Leave it to an artist–it's laser cut
from clear acrylic and lets you securely stand your iPad horizontally or
vertically at a 30 degree slant. Pretty simple.
I see this as being a kitchen counter fixture
so you can access iTunes, the Internet, have an ongoing photo slide show
playing – and clearly, prevent any future flour fiascos. -Jeana

The Tab iPad Stand is available from Etsy in
glossy white, black or clear acrylic for $35.