We have two iPod Touches and two iPhones in our home which results in hanging cords in nearly every outlet in our kitchen. Can you recommend a multiple device docking station that will charge all four devices in one place? – Renee
We feel your pain, Renee! An overload of USB and power cords is so 2011. Well, no better time than the New Year to de-clutter and get organized.
There are a bunch of devices out there that will help you manage your cord situation and charge the whole family's tech at once.
Mat Chargers 
Charging all four devices at once can be nothing more than simply placing them down on a single device called a mat. Both PowerMat and Belkin (shown above) offer incredibly convenient charging stations that somehow transfer energy through the back of the phone to magically charge it
(science was never my forte).
Belkin's Conserve Valet ($40) charges up to four devices at once, and PowerMat offers many different models to suit a variety of charging needs (prices range from $30 – $130).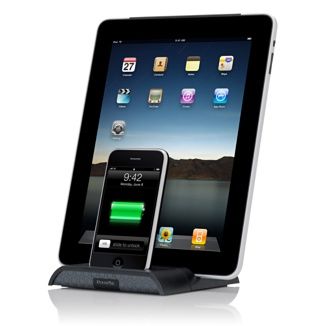 Dual Charging Options
If you'd rather have a charger that just powers up two Apple devices at the same time, check out the Xtreme Mac InCharge Duo ($60) (shown) or Griffin's PowerDock Dual ($60). These might offer a slight benefit in counter space over the mat option since the devices are charging upright, but of course, you only get to juice two at a time.
Multi-Plug Chargers
If you'd rather channel all the power from one outlet into a single plug or unit, check out the Kensington USB charger ($30) which charges four devices simultaneously. The Chargepod ($50) works for up to six devices–although you may need to purchase additional adapters to suit your specific devices. These are great options especially for traveling, and can be used across any device that uses a USB plug.