Lately, we've been spending a lot more time listening to music with the kids when we might be watching TV. And I find that if we've got an audio system right in their room or in the dining room where we're hanging out, we're more inclined to use it. Now that I've discovered the ingenious Bluetooth enabled audio system from Soundfreaq, I can see why so many families love it.
Also, why it could be a great dad gift.
The Soundfreaq Recharge sets up in a few minutes which is not a small benefit for me. It works with any Bluetooth device at all to stream audio (yay for Android and Blackberry users).
For you iPad, iPhone, and iPod fans, download the free Soundfreaq app onto your device and let that function as your playlist and remote control. It's super intuitive to use–your own music and built-in FM radio are automatically imported into the app, so you just use that to play and control your music. It also can connect with your PC or your home theater system.
One more great feature for iOS users is that it doubles as a gadget docking station and charger. Nice touch: the removable spacer so you can fit either of them securely, even without removing a case. Plus the USB cord means you can charge other gadgets (Bluetooth headset maybe?) while you're jamming out.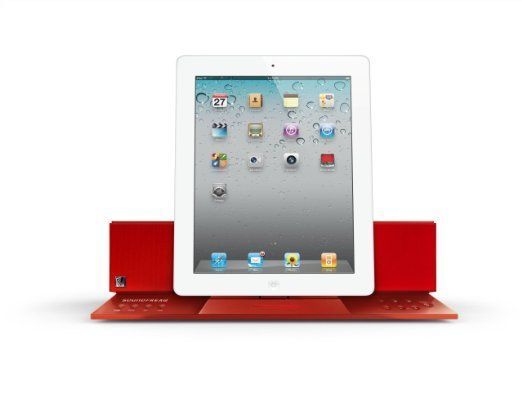 I make no apologies that I really love that it looks great. Especially the Soundfreaq Recharge "Love" in bright red. It's lightweight with a small footprint, meaning it's also portable. If you want to take it from your kitchen to the party on your back porch, no problem. the built-in rechargeable battery should give you up to about 6 hours of listening time without an outlet. It would also be perfect for a small office.
Despite the compact size, the Soundfreaq speaker really does deliver some nice sound, especially for this price range. Now I am definitely not an audio geek that can distinguish the
difference between 87and 88 dB sensitivity. But I know when my music sounds good, and indeed it does. The bass is clear and strong for a small speaker, and wherever we were in the room, it sounded good.
I've seen a few random reviews calling the sound "tinny" and honestly, I'd tell them to try out a pair of Muji cardboard speakers then report back to me with the real definition of tinny.
One warning though: when I was setting it up, a decidedly NSFW expletive-packed rap song started blasting and I have no idea where it came from*. Also, I wasn't at work. I was home. With my 5 year-old. I felt much better when we got to They Might Be Giants.
Find the Soundfreaq Sound Step Recharge speaker in red, black or white on sale in the $149 range from our affiliate Amazon. It would make an awesome Father's Day gift!
*Edited to add: It's possible this occurred because my iPhone may be set to auto-play when connected to Bluetooth, and the default music player app might be radio. Because I sure am not cool enough to own NSFW rap albums. So check your settings before getting started.