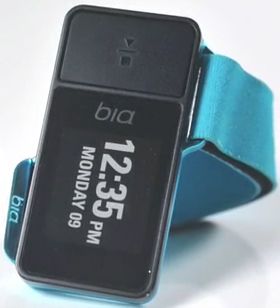 As a runner, I've used my fair share of GPS watches, all of which tend to have the same issue: Too darn big for my wrist. And while I personally don't mind strapping my smart phone to my arm in my beloved Arm Pocket, that's not an option for many of my friends who do triathlons.
So when I heard about the cool Bia Sport GPS Watch for women, you can bet I wanted to learn more.
And let me just say, it looks pretty darn cool.
The
Bia Sport GPS Watch
is the brain child of two tech-savvy moms (including one MIT grad) with 7 kids between them who, like me, were sick of returning GPS watches because they were too big, or didn't accommodate their passion for swimming. So they put their heads together and created the Bia Sport, a female-specific GPS device. Hooray!
Now don't be fooled. A gadget made for women doesn't mean that it's pink or frilly, nor is this watch just a lightweight version of some existing GPS watch sized for a smaller wrist. This smart, streamlined GPS watch comes with cool innovations: the Bia Sport has one button instead of seven, and it sends your data directly to your log without the need for syncing, and has the ability to track swimming. Plus there's amazing touch screen, and a 17-hour battery life. So the Bia Sport is a pretty great improvement over other GPS watches to begin with. And just for women: a safety alert for to inspire confidence at solo workouts. Seriously awesome.
Oh, and it looks fabulous. Something this female can definitely appreciate. -Kristen
Want to get your hands on a Bia Sport GPS watch? Support them on Kickstarter! They need to reach $400,000 by July 14 to make this product come to life