If you've recently noticed a lack of updates from your favorite brands, bloggers, or fan pages on Facebook (or maybe you haven't realized it until just now), it may be because of the introduction of Facebook's new Promoted Posts.
But we can help you fix it.

These promoted posts essentially give companies,
brands and fan pages the opportunity to pay to make sure their updates show up in their fans' news feeds. But that, along with Facebook's new EdgeRank
algorithm has also increases the chances that you don't see what you actually want to see, but what Facebook has determined you should see.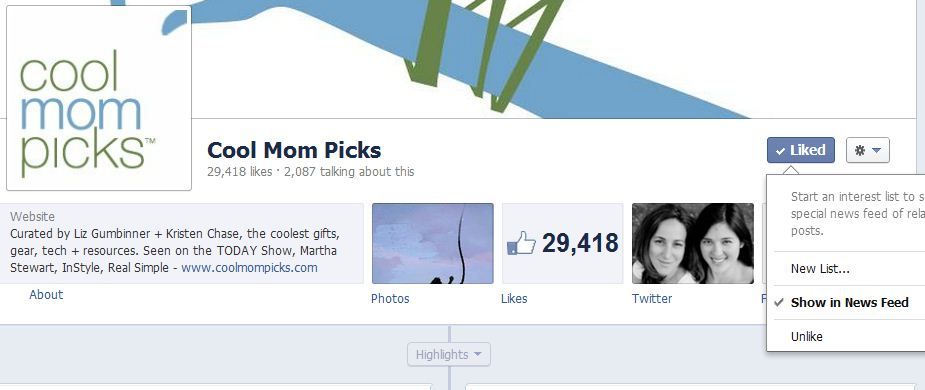 To make sure you see all
our awesome updates–or any page's updates–there's a quick fix for getting all them back into
your direct feed.
1. Go to our fan page, or others that you'd especially
like to get updates from.
2. Click on the "Liked" button under its
cover photo. (see screenshot, above)
3. Activate the "Show in News Feed" option and then you'll go
back to getting all the updates you want. Take that, EdgeRank.
Honestly, we kind of hope you get to see what we post on Facebook
because you like seeing what we post on Facebook – not because we have
to pay for it. -Jeana
If you're not already a Cool Mom Picks Facebook fan, hey! This is a good time to do it. It's fun over there, promise. While you're at it, visit your favorite pages and make sure you activate their updates in your news feed.
*Note: If a sponsored post appears in your feed, it will be marked "sponsored."