Every year during the back-to-school season, I can't help but get nostalgic whenever I see those black and white composition books. Which is probably why I buy a bunch, and now have a stack in my closet.
Well, now I can feel that way every day with these two new iPad cases — one that's made by one of my fave designers, and one that you can make yourself.
It's no surprise that I just can't take my eyes off the
Kate Spade composition notebook iPad case
, which looks quite similar to the real one, with a few design-y tweaks of course, like the "Notes to Self" title and the clever
Kate Spade New York
placement. Well, and that it safely keeps your iPad tucked inside.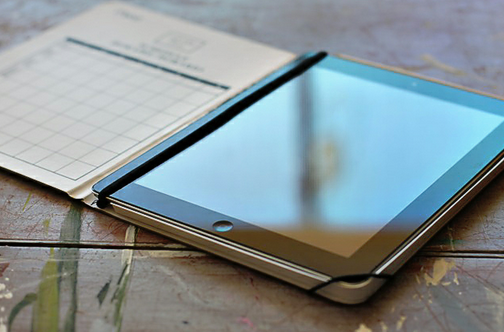 As an alternative, if you happen to be a little crafty, you can make your own case with this
DIY Composition notebook iPad case tutorial
(seen above). It's obviously not as swanky as Kate Spade, but with a little time, a few tools, and some patience, you can whip up a cool gadget cover of your very own. All for just $2.99. –
Kristen