Starting oh, about now, every news channel and magazine will start promoting their "best of the year" piece. While it's fine and dandy to watch non-stop footage about the 2012 election, Kristen Stewart, and people camping out for iPhone 5s, wouldn't it be fun to create a highlight reel of your own family's life this year? Well now you can, thanks to Animoto.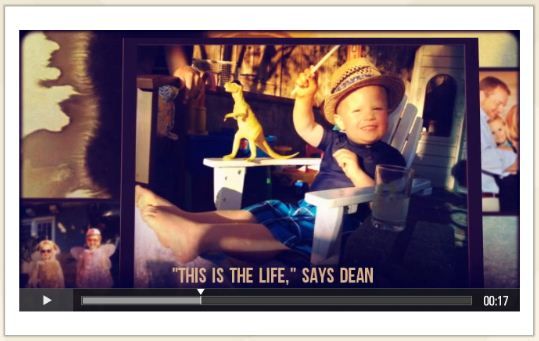 We are longtime fans of Animoto's awesome and super-easy video creation service, and its Best of 2012 Facebook Videos is
fun new feature (launched today!) and the perfect way to cap off the year.
Animoto automatically pulls the most popular photos from your Facebook
feed throughout the past year and compiles it into your own personal
"best of" video that looks just amazing.
Select a video style ("inkwell" is shown above), then log in
your Facebook credentials and the service will automatically hand-pick
photos that your friends liked and commented on, and pull together a fantastic roster of highlights from 2012 to create a montage. Once the clip has been compiled, you can go in and edit, change the photos, the soundtrack add titles and more.
You
can broadcast this video over Facebook, Twitter, or if you'd like to keep it more personal, just share with select relatives via email. Anyone can create a 30-second video for free which you can view, edit and share. If you want to create another one (or more) and have more customization options, you can upgrade to Animoto Plus and create unlimited videos for $2.50/month.
I can't think of a grandparent or aunt who wouldn't want to receive such a lovely
compilation. And without even having to relive any
Twilight
relationship drama, either.
–Jeana