Yes, it's that time to start thinking about ways to organize your gift lists. The holidays will be here before we know it. Luckily, these days. there are really a lot of tech resources out there for
managing the holiday shopping process, both to keep track of gifts you want to buy for
others, and to keep a list of things you have your eye on (hint, hint).
We've culled through a ton of holiday shopping tech to find some the best mobile apps and online resources to make your holiday shopping just a little easier. And hey, anything that minimizes having to return things after the holidays is holly jolly in my book. –Jeana
ON YOUR SMARTPHONE
This
handy app (above) keeps a running list of things you want for yourself
and compiles the wants of friends and family. The catch is that you have
to invite people to the app in order for them to be able to contribute
to your lists. Once you have people in your network, they can easily add
whatever they want to make it easier for you to know exactly what they
want. There's also a supercool barcode scanner within the app that lets
you scan your items directly onto the list. (Free, iOS)
Free Christmas List
Keep
track of gifts for Mom, Dad, the cousins, the uncles, the kids and
anyone else on your list with this handy app. You can separate lists by person and
even keep a running budget of how much you have spent and how much you
have left, for each recipient–great for those of us who sometimes go a little nutty on the stockings stuffers. This version is free, but the
Pro version
is ad-free and adds an option to password protect your list from spying eyes. (Free, Android)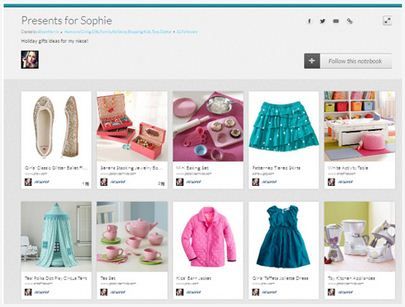 More than just a gift organization app,
Springpad
(a recent sponsor, who we totally love) is
more like a personal digital assistant that lets you organize thoughts,
lists, images, links, and more into "notebooks." For these purposes, you could
have a "Gifts for Me" notebook, "Gifts for Mom," "Cookie Recipe Ideas for the Teachers" and so on–and they can even be made private which is a huge bonus. The
visual layout is just pretty to look at and because each spring allows you to link to multiple items, links, media, coupon sites and more, the functionality goes way beyond
holiday shopping. It's
on the web
, too and you can choose to share or
not share whatever you wish. In fact, check out our editor
Liz's array of awesome notebooks
for inspiration!
ONLINE
Pinterest
We just covered
Pinterest's new secret boards
and of course, holidays gifts are the perfect reason to take advantage
of this new feature. One drawback as opposed to a similar service like
Springpad is that you're only limited to three boards that can be kept
shrouded in secrecy. But if you're already spending time on the site, this could
be a great way to add to whatever you've already collected and find ideas from other boards. Check out the Cool Mom Picks
Cool Toys Pinterest Board
for some fun inspiration!
If
you're going to be doing some shopping online, it only makes sense that
you look for a few items for yourself, right? After all, you'd be doing
everyone else a huge favor by picking out exactly what you want. And
whatever you want online can be housed in one place with WantWorthy.
Using a little "Want" button that you drag onto your browser toolbar, you can
instantly create a list of items that are good for any gift-giving
occasion at all.
Admittedly Google Spreadsheet is definitely not the sexiest option, but it certainly gets the job done. You can use this simple
template
to
keep track of everyone's gifts and even share with family and friends who you want input
from. This could be helpful for group gift options too where everyone
can contribute their thoughts on ideas and budget. Since Google Docs is
in the cloud, you (and other gifters) can always get to it without
anyone needing to have an app or smartphone.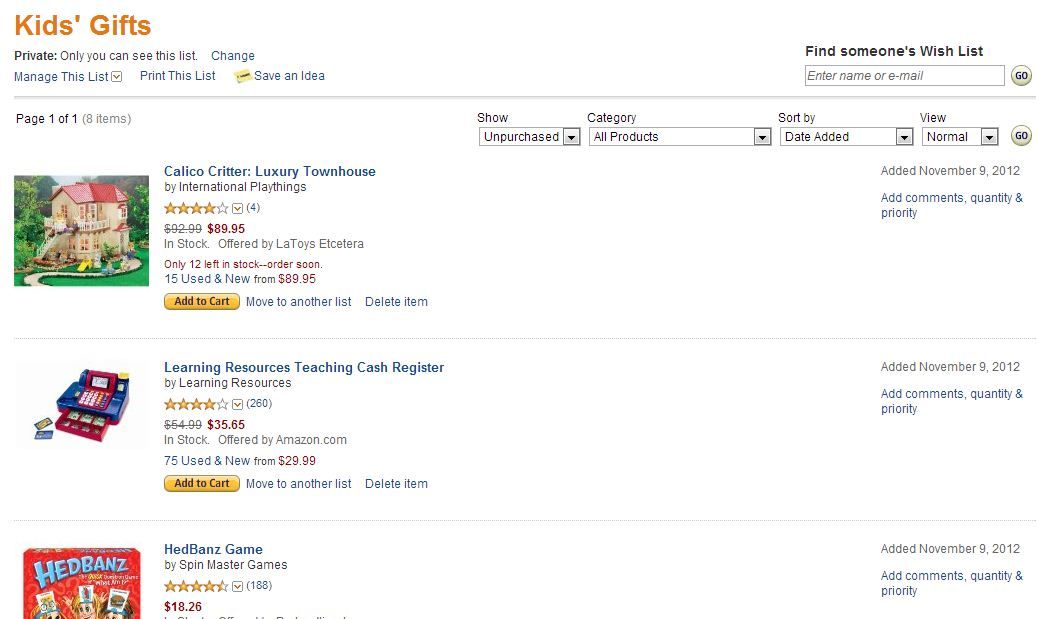 I'm
on Amazon at least once a week and have started taking better advantage
of its comprehensive Wishlist feature. With EVERYTHING available
through Amazon, it's a perfect way to create lists for yourself and
others, plus being able to purchase them directly. You can share these
lists and just keep them going year-round, adding to them whenever you
come across something that's list-worthy. I love that I can keep the
lists and buy from the lists in the same place for the ultimate in
convenience.