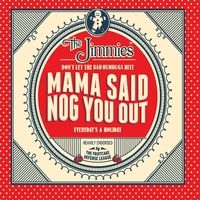 Just when I start to hyperventilate over how soon Christmas will be here, I remember that some of my friends are getting ready for the start of Hanukkah…on December 8th!
Since this big holiday will be starting before I even address my Christmas cards, this week's download goes out to all you Hanukkah revelers, from one of our favorite kids' bands,
The Jimmies
.

Chanukah Oh Hanuka, oh Hanukkah Medley mixes a dance-worthy ska background with traditional lyrics for a song that is just a bit kooky but totally fun. And it has a nice fast beat to get you moving quickly–which will be
ever-so-useful if you still have tons to do to get ready for the
holiday. Like me.
Plus, I love the acknowledgement that I'm not the only one who spells Hanukkah (Hanukah?) differently pretty much every time. –Christina