Before kids, we looked forward to spending our Christmas holidays catching up on every Oscar-contender in the theater. Now though? We're more likely to stay home and watch the Christmas classics, or sharing our own childhood favorites with the next generation.
We've asked everyone in our Cool Mom team to offer up their own Christmas movie favorites, all of which we've tracked down on Amazon Instant Video for your immediate screening enjoyment. (One more reason to go Amazon Prime?)
It's kind of fun seeing the gamut of tastes we've got here!
(All the films are available for purchase through our Amazon affiliate, many can be streamed through Amazon Prime or Netflix and of course, on cable.)
Elf
I will never get tired of watching Buddy, the man raised as an elf who goes on a search to find out where he really belongs. Will Ferrell takes this goofy role and plays it to the hilt–all while reminding us what real Christmas spirit looks like, even if it involves stealing a tree from Central Park. The scene where Buddy attacks the "fake" Santa is one of my favorites and one reason we told the kids that all those mall Santas are "helpers." Wouldn't want them to make a scene too. –Christina
Scrooge
I'm a Christmas Carol connoisseur, and so my favorite Christmas film by far is the 1970 Scrooge, a musical version of this beloved Christmas favorite starring Albert Finney. Plus there's just something too fun about annoying my kids by singing Thank you very much! with a British accent over and over again. –Kristen
Rudolph the Red-Nosed Reindeer
This movie never gets old (even though yeah, it's old), and my kids love it today as much as I did way back when. Yukon Cornelius? Bumble? the doll from the Isle of Misfit Toys who, 45 years later, we still don't know what's wrong with her? It's all perfect. And it never feels like the season has officially started until we've dusted our copy off and sung the title song over and over. –Liz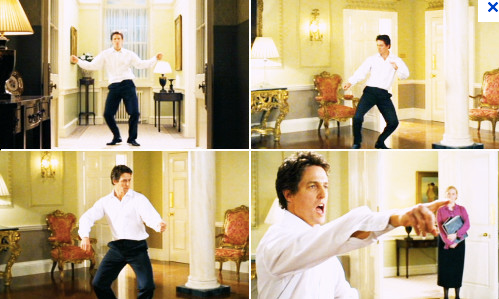 Love Actually
This bah humbug girl has a soft spot for this quirky tragi-come-dramedy that follows eight very different couples through the holidays. I love Hugh Grant dancing to Jump (For Your Love) as the Prime Minister of England, but my real swooning is reserved for the shy artist played by Andrew Lincoln before he started fighting zombies as Rick on The Walking Dead. It'll make you angry, it'll make you joyous, it'll make your heart glow and then break, and it'll make sure you never feel the same way about airports again. –Delilah
I second this! Plus Emma Thompson and Laura Linney are at their heartbreakingest, beautiful-est best. –Jenn
A Christmas Story
I've loved this movie since before I understood what Ralphie REALLY says instead of "Oh fuuuuudge" and that "fragile" isn't actually pronounced "fra-gee-lay" (I laughed hysterically during both parts anyway). Watching it now sweetly reminds me of how magical Christmas is for kids–and how intense the need to find the perfect present waiting under the tree can be. –Lexi
Christmas Vacation
Yes, I know this isn't necessarily a child-friendly movie, but it's still family viewing at our house. I'm okay with that. –Julie
The Year Without a Santa Claus
Confession: This is one of half-a-dozen of my "favorite" holiday movies, because I'm a total sucker for any movie that touches on that tension between Christmas mythology and reality. But really I just love this one because it's so ridiculous; what's not to love about two feuding brothers who are ultimately scolded by their mom, who by the way happens to be Mother Nature? Who doesn't love picturing Santa as utterly human? The music is catchy, the story is delightful, and it never, ever fails to make me laugh. –Mir
Scrooged
This 1988 version of the classic Scrooge story is comic genius. Each line is more quotable than the last. ("Did you try Staples?") And while it might be a little dirty and rough around the edges for a child's holiday movie, it leaves you with Bill Murray singing Put A Little Love in Your Heart. Can't beat that. – Stephanie M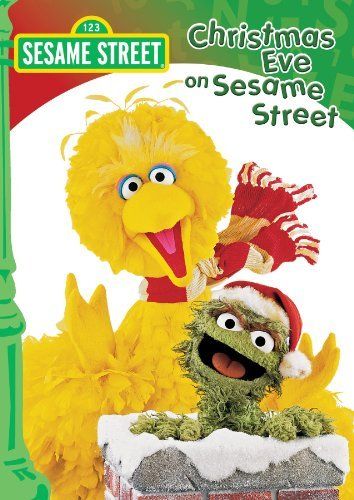 Christmas Eve on Sesame Street
There's just something about this Sesame Street special that gets me every year. Whether it's Ernie and Bert going all Gift of the Magi with their rubber ducky and bottle cap collection, Linda and the kids surprising Bob with an ASL rendition of "Keep Christmas With You," or Big Bird trying to figure out how Santa gets down the chimney, I'm a sucker for this 1978 Christmas classic. And I swear it's not just because I get a bit misty-eyed every time Mr. Hooper makes an appearance. –Stephanie S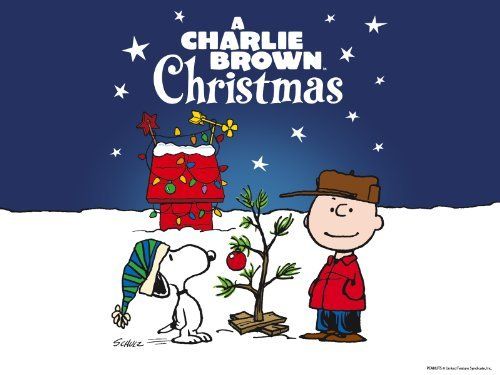 A Charlie Brown Christmas
I've loved this movie since I was a little girl, but really came to appreciate it when I got older. Not when I had kids (though they love this movie, too), but when I worked to celebrate Christmas with my boyfriend on a shoestring in our crappy NYC apartment the years after college. We couldn't afford a full, beautiful Christmas tree or very many gifts, but thanks to Charlie Brown I loved every droopy, sad branch of our Snoopy tree and every minute of our stripped down holiday. –Stacie
It's a Wonderful Life
"To my big brother George–the richest man in town." No matter how many times I've heard that line (upwards of a hundred, no lie), I get weepy. There is simply no other Christmas movie that can hold a sparkly candle to the Jimmy Stewart classic about a discouraged man who gets to see what life would be like if he had never been born. One warning–make sure to see it without obnoxious candy-colored commercials breaking into the black-and-white magic. –Shari
White Christmas
Hands down, without question, my favorite holiday movie is White Christmas. It's a Christmas classic that you just can't go wrong watching. I watch it at least 5 times during the holiday season. Is that too much? I don't think so! –Kirsten