The other day when I was trying to replace my old router, I found myself wrestling with a mass of cords, plugs and surge protectors. Cue: organization tips for tech that I need too. I scoured through all the awesome organization gadgets and techcessories we've covered in the past and hand-picked my favorites for making my desk (and uh, behind it) squeaky clean and organized for 2013.

Talk about gorgeous desk organization! These self-adhesive clips by Blue Lounge stick to any surface and best of all ensure that you never have to crawl around on the floor to find your power cord. They're completely cute to look at, plus they make cable clutter completely non-existent. ($9.95 for pack of six)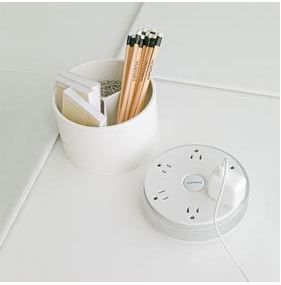 I never thought that I'd consider a power strip to be beautiful, but this Power Pod puts that theory to rest. Just look at it, it's gorgeous! And one of those things that makes you wonder why others haven't thought of it before. This is a power outlet that you no longer have to hide behind the deep trenches of your desk. But beauty comes at a price. This one is $99.
Socket Sense Expandable Surge Protector
For a less expensive, yet still awesomely functional power option, the Socket Sense Expandable Surge Protector works like a charm. When compressed, it looks like a traditional power strip, but lo and behold, each port can be extended to accommodate all those big plugs. How genius! ($18 at Amazon)
Come to think of it, it would be nice to forgo the cords altogether and use a nifty Powermat like this one from Duracell to charge away. This one comes in different sizes, but the largest charges up to three devices at once, with no wires required. That's what I call organizing and de-cluttering. ($34 – $70)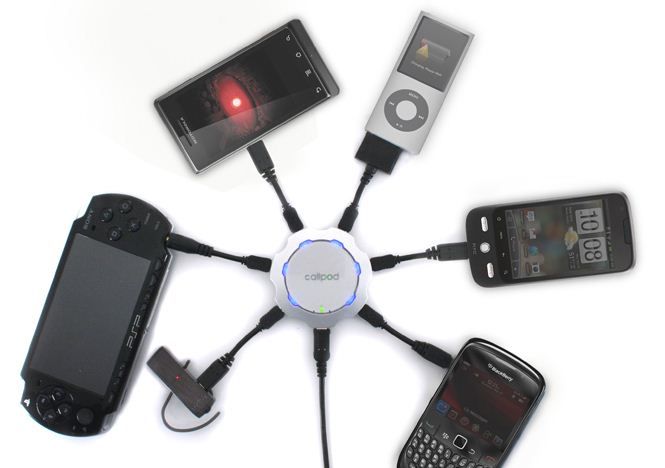 If you're a gadget hoarder and have even more things you need to charge at once, the Chargepod works for up to six devices–although you may need to purchase additional adaptors to suit your specific devices. These are great options especially for traveling, and can be used across any device that uses a USB plug. ($49 and up)
Finally, for a mix of charging needs, i.e. USB and traditional power cord, the Pivot Power Mini is a genius device that lets you turn a single outlet into four, giving you two grounded outlets and two USB ports. This is awesome for those of us who often need to charge a laptop and a phone on the go and don't want to be an outlet hog. ($24.99)