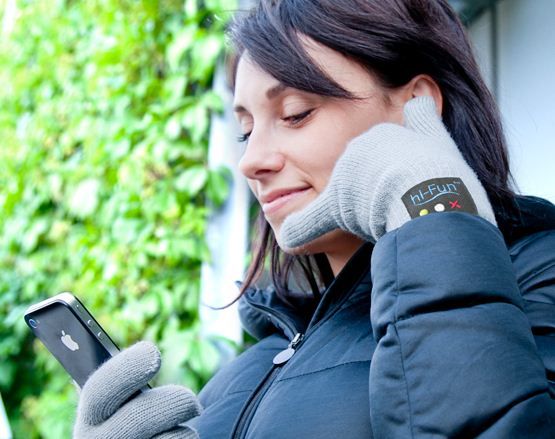 We've been singing the praises of increasingly stylish touchscreen gloves for a while now. But now I've come across ingenious gloves that not just allow you to answer with your fingers, they literally allow you to talk to your hand via Bluetooth.

The
Bluetooth gloves
from a company called Hi-Fun have a tiny speaker sewn into the gloves along with a microphone that you can hold up to your ear like a mime pretending to make a call. Only, you really do!
And
get this, the "control panel" to answer/end calls is located on the
cuff so you can simply hang up with a touch of your finger. When you
need to, just recharge with a USB.
While I could live without the cutesie logo on the wrist, it's still pretty amazing. Finally I can keep my gloves on and still talk on the phone. Looking like James Bond while I'm at it is just a bonus. -Jeana

The Hi-Fun Bluetooth Gloves are available for pre-order from Firebox for around $80 from Europe, excluding shipping.We love the disclaimer that it will not actually turn your hand into a phone, because that would make you a Cyborg.