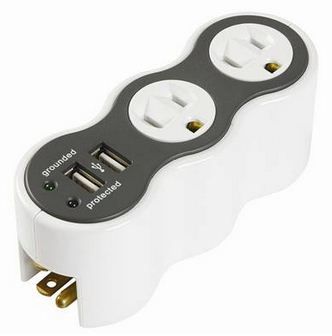 While surge protectors aren't particularly the sexiest tech gadgets out there, when you're in need of one, you realize just how important they are. We've covered a slew of great ones on Cool Mom Tech, including this awesome Expandable Surge Protector, this Pivot Power Surge Protector and probably my favorite, the beautiful design award-worthy Power Pod.
Now I found a travel surge protector called the PowerCurve that not only acts as three-pronged power strip, but a USB charger as well. Talk about functional.

The
PowerCurve Mobile Surge Protector
is a perfect gadget to throw into your bag when you're traveling or
even just out and about town. It comes with two outlets AND two USB
ports which means you can charge up to four devices at once. What's even
better is that the unit is grounded ensuring your tech is safe.
The design is compact and I appreciate little
touches like the prongs that fold back into the unit, making it even safer to throw into your bag. Plus charger is compatible with USB-charged tech
like iOS, Kindle and Blackberry devices, allowing for easy (and
grounded) charging on-the-go.
–Jeana