I took the cutest video of my daughter at her piano lesson last week playing Beethoven Sonatas, jazz riffs and Billy Joel covers. It was amazing! OK, fine, it was a run-through of "Do Not Sneeze" accompanied by her piano teacher, but I still see a budding star. Thankfully, I've discovered a new video sharing iOS app that lets me share it instantly.
Joya is a fantastic app that lets you share videos of any length via email and text, so that your musician, soccer star, ballerina or star of any of your kid videos can bask in the limelight right after the video has been taken.
The biggest benefit? Even long videos are up for the ride. No more waiting for the next family gathering, no more uploading to YouTube, no more trimming down so that it can be sent via email. Your original videos can be sent directly from the app to anyone who can receive an email or text message with a private link to the clip.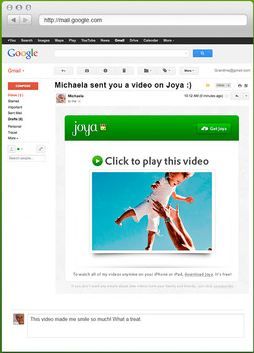 It's nice that you can create a list of favorite receipients, like relatives, playgroup friends, fellow class parents, or your kids' whole little league team who you tend to share with. Bonus: it's fast. When I tested it out. I got the email notification within a few minutes with the video link and upon clicking it, voilà, there it was. –Jeana
The Joya video sharing app for iOS is available for free for iTunes.