Whether you need props for your party photo booth, you're throwing a baby shower for your favorite shutterbug, or you just need an adorable place to store your paperclips, these sweet papercraft cameras are just a click away!
Well, and some cutting and folding and toothpick gluing. But that's fun, right?
We're smitten with the sweet printable designs in Mel Stringer's 'lil Shop, girliepains on Etsy, especially the variety of camera designs. Each purchase gives you a PDF with instructions for cutting, folding, and gluing a piece of paper or cardstock into a 3-D camera.
The Perfect Paper Polaroid includes patterns in pink and blue and comes with hand-drawn "photos". The Vintage Box Camera is a more sedate and serious camera that comes in four true-to-vintage colors with a little carry handle. The Baby Box Camera comes in seven bright pastel colors and would be so adorable as a party favor for kids. And the Toughie Camera, inspired by the LOMO Diana model, has a lift-off top and is sturdy enough to use as a party favor box, gift box, or office supply storage cannister.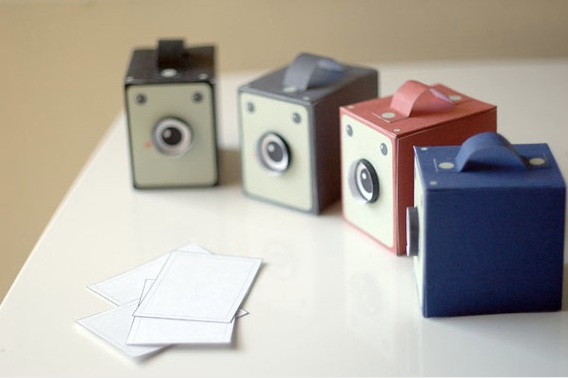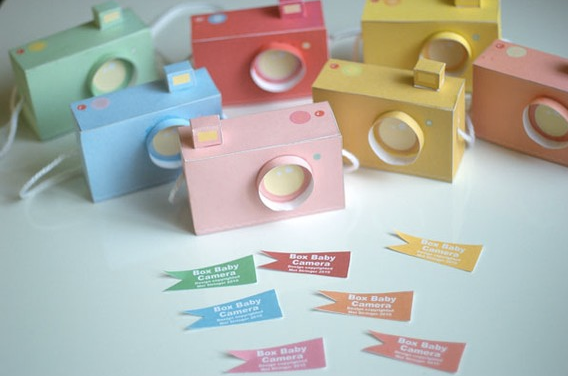 The three camera bundle pictured above is on sale now with PDFs for the Polaroid, Vintage Box, and Baby Box cameras in all colors for $10.69!
You're going to love taking pictures of people pretending to take pictures with these pretty picture takers! Say that three times fast. Heh.-Delilah
Find pretty papercraft cameras at girliepains on Etsy. They also have non-camera garlands, gift tags, paper dolls, and more.