Just when I was wondering whether cufflinks were starting to disappear, I found these brilliant ones that are way more than just a style statement. Way.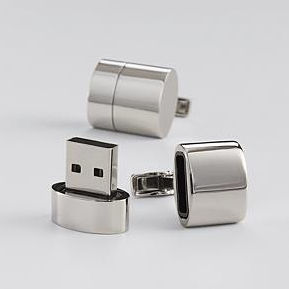 These WiFi Hotspot Cuff Links from Red Envelope are unlike anything I've ever seen. All do is install the compatible software onto a laptop, connect via USB, and you've got your own hotspot for mobile devices. In your cufflinks. Welcome to 2013!
And if that weren't enough, one of the cufflinks acts as a 2GB USB flash drive for file storage. Talk about amazing Father's Day gift–and one I might want to steal for myself at that. White oxford shirt with French cuffs, anyone? –Kristen
Make a geek dad's Father's Day with the WiFi Hotspot Cuff Links on Red Envelope.