Every time someone takes a picture with his camera and tweets the Instagrammed masterpiece, take a sip. You'll be drunk in twenty minutes, but you'll look cool doing it!
Note: possibly not the best game for first birthday parties.
Also: We don't condone drunkenness. Officially.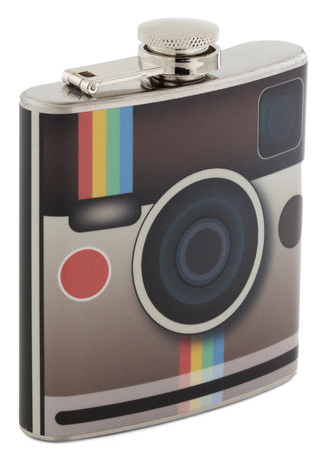 Still, we have to laugh at the adorable Insta-dram flask spotted on ModCloth. It's made of stainless steel with the typical screw-on top, but the screenprinted design is inspired by everyone's favorite photo app. Best of all, it holds up to six ounces of your favorite liquor. Or non-alcoholic beverage, of course.
We can't wait to see the Instagram photos of hipsters at parties drinking from their Insta-dram flasks while looking at Instagram on their phones. .-Delilah
Find the Insta-dram flask on ModCloth.