I love when I catch that perfect, precious moment of my sweet little guys and girl on camera. But the ability to add their adorable little voices to the photo? Stop it. The new Shuttersong app does this effortlessly. This is seriously ratcheting up the adorable factor in the way I'm going to share my photos.
The Shuttersong app is so easy to use that it has a wordless interface, which makes it both beautiful and completely intuitive. In fact, my three-year-old quickly figured out how to change the photo filters (it's the bar across the top of the screen) and how to switch from the camera to our photo library (the two corners at the bottom).
It takes your still photo and combines it with audio into a single jpeg file. Very easy to share. Very cool.
What I love about this app, though, is that the possibilities are endless. I could send cute snuggly photos of my little one whispering through his lisp, "I lub you, Grandma" all day long. Maybe you'd rather want to record your son's soccer stats over a great action shot. Or perhaps a certain moment captures your heart in such a way that you just have to set it to music.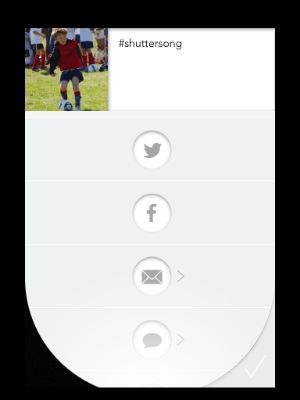 When you're done setting up the photo and audio the way you want, you can easily share it via Twitter, Facebook, email, Tumblr, and a few other social media platforms with more are on their way. It couldn't be easier.
Trust me, you're about to start seeing (and hearing) your pictures in a whole new way. –Kate
The Shuttersong photo and sound app is available for free for iOS devices now and is coming for Android in the fall, so start melting some hearts, y'all!