One of the most frequently asked questions we get here on Cool Mom Tech is how to take a screenshot. Before you feel silly asking the same question, you should know that it's a common one, and not necessarily as simple as it sounds.
Here, easy instructions for taking a screenshot on your Mac, PC, iPhone, and Android phone. Happy snapping!
Taking a screeshot on a Mac:
The easiest, quickest way to take a screenshot on a Mac is to press Command- Shift-3 to take a shot of your entire screen–or Command-Shift-4 (above) to grab a specific area. Your arrow will turn into a crosshair cursor which you can drag around the image you want to capture. Your shot will be automatically saved to your desktop as a PNG file, where you can rename and save it.
Tip: If you're mousing over an image that has an auto-zoom, or other info pops up that you don't want, start over by clicking the mouse outside of that area that activates, before grabbing your screen shot.
If you need more flexibility, you can also take a screenshot using your Preview app. Under the File Menu, select "Take a Screenshot" and then select "From Selection." You do the same click/drag, only this time you can name the file and save it as PNG, JPG, PDF or TIFF.
Taking a screenshot on a PC: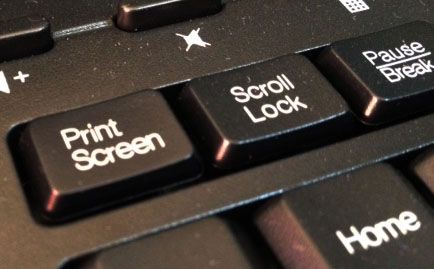 This is a little trickier than using a Mac. With a PC, locate the "Print Screen" button on your keyboard and press it to save the image to your clipboard. Some PCs also require that you simultaneously press Control, Alt, or Function. Next, open Paint, Microsoft Word, or any other program you'd like to use to save your screenshot. Open a blank doc or screen and press Control + V to paste it where you want it. Make sure to name and save it in a place where you can easily find it!

Taking a screenshot on an Android device:
If you have the Ice Cream Sandwich OS or above (4.0 and up), all you need to do is press the volume down and power buttons together for a few seconds. Your shot will pop up in your gallery app. Unfortunately, those of you with older Android operating systems might need to install an app, like ScreenShot Ultimate, to allow you to take screenshots as that function is not automatically built in.
However if you have a Samsung device, with the exception of the Nexus, simply press Power + Home together.

Taking a screenshot on an iPhone or iPad:
All you need to do to take a screenshot on your iPhone is press your home button (circular button under your screen) and the power button (on top of your iPhone) at the same time. Then check your Albums under Camera Roll to find your shots. You can even edit the image right from your photo album, should you want to crop out your black bar at top that shows the time, signal and battery life.