I love my e-books, thanks to their portability, affordability, and my habit of buying the next book of the series at 3 a.m., when all real bookstores are closed and I just have to find out what happens next. But I miss the solid feel of a book in my hands.
Good news! Thanks to this unique marriage of traditional bookbinders and the ability to personalize an already stunning design, I now feel like my e-book experience is elevated to a higher plane. With my new custom DODOCase I now get to enjoy ebooks on my iPad Mini, but with the heft, texture, and intoxicating scent of a real book. Ahh.
Since each DODOCase is handcrafted by traditional bookbinders in San Francisco, they retain the smell of fabric, bamboo, and glue–and even leather, if you're into that. Let me tell you, it feels heavenly in your hands.
There are tons of options, from special edition, designer-created DODOs to plain cloth or leather ones to my personal favorite, the Build-A-Dodo, which lets you choose pretty much every single part of your case. I seriously find myself just stroking the darned thing. Here's the one I customized:
There are also some pre-made options, if you're not into custom fabrics and purple straps, like I am.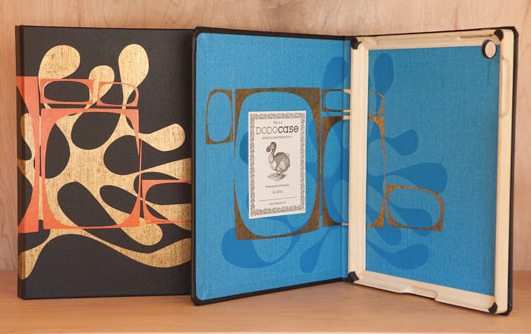 Depending on which one strikes your fancy, DODOCases are available for iPad, iPad Mini, iPhone 4/5, Nexus 7, and various Kindle models. Prices range from $40 to more than $100, with the e-reader cases clocking in around $80. So yes, that's a little splurgey, but this is the most delicious and well-made gadget case I've ever seen.
I find myself picking up my iPad Mini even more now just because it's so beautiful. I get the idea that unlike a real dodo, this case is built to last.
Find beautiful, handmade gadget cases at DODOCase. Build your own to spec in the Build-A-Dodo section.