One childhood memory I can recall with amazing clarity is the morning my dad loaded us all up in our wood-paneled station wagon and drove us to  to pick up an Apple IIc. It had a whopping 128 KB of memory and an 8-inch green-on-green monitor. Wow, that makes me feel old.
Let me just say the obvious—we've come a long way from the early 80s. Now my family uses the new Sony Vaio Tap 21 and it's like nothing I ever dreamed of as a kid.
The concept of tablet-as-desktop-computer is not new, but the Sony Vaio Tap 21 seems to be the most evolved tabletop PC out there. This is a gorgeous piece of hardware. I love the aluminum body (an improvement over the less sturdy-feeling Tap 20), huge 21.5-inch screen, and the fact that it's a mere 8 lbs–30% lighter than previous models–which definitely puts it in the portable category.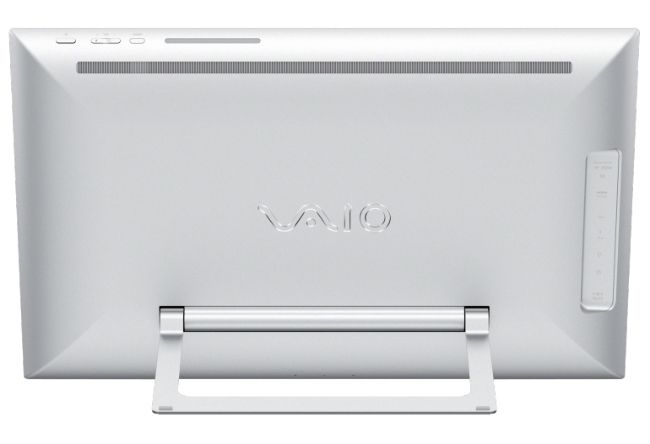 But don't let the portability and the tablet features fool you—this computer can handle anything your traditional desktop can. The amazing HD resolution screen plus the speedy Intel processor plus the Dolby surround sound with two subwoofers make this an amazing gaming and entertainment computer—or just an amazing way to view recipes you want to try off Pinterest.
The Tap 21 has a built-in battery, so if you want to watch a movie in bed or fold the kickstand down and play a family game together at the kitchen table you've got a few hours before you'll need to plug it back in. And once you move it into sleep mode, I've found you can keep it powered on for days at a time and it'll start back up in about 2 seconds.
I've been a Mac user for years, so the Windows 8 charms will take some getting used to for me, but I'm loving the Fingertapps organizer that's built in. With the cute clothesline theme, you can create to-dos, video messages, or calendar reminders that will hang on the line. When your family members walk through the kitchen and tap on their profile pic, the items that correspond to them come up . . . so you can subtly remind your daughter to sweep the kitchen floor or your son to go get his hair cut, or just leave them a video telling them how much you love them.
This really is a great computer for family use—I love that I can see that big screen from the kitchen while my kids are online , but I can also easily stow it away  when we are having a dinner party . . . or then again, we could move it over to the corner of the kitchen and play background music through the crystal-clear speakers. If you're looking for a computer with versatility, this is it.
The Sony Vaio Tap 21 starts at $999 at our Amazon affiliate or at stores near you. Check out the full specifications at the Sony website.  And thanks to Sony for sending a review unit.