When my oldest was newly sporting big girl undies, my greatest fear suddenly became, What if she has to go, and I can't find a bathroom? Now multiply by a factor of 10 for our trips into New York. Modern city parents, have no fear. Way2Go is a free bathroom app for iOS and Android that's got your back.
Or your backside.
Launch the app and it will use location services to map exactly where you're standing, along with the three nearest publicly accessible restrooms. Tap those individual locations to bring up specifics, like whether they're open late or baby-friendly. Many of them are sandwich or coffee shops, but there are also playgrounds and public libraries which are always a good bet. You can also leave feedback on locations — super helpful to future visitors.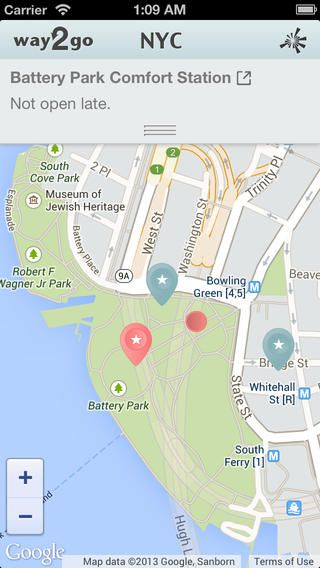 Unfortunately Way2Go currently only covers Manhattan, which means Park Slope parents, and the rest of the world, are on their own for now. But they did recently launch a version for San Francisco, so hopefully the app will keep expanding its territory. In the meantime, we say don't leave the outer boroughs without it.
Download Way2Go NYC bathroom app and Way2Go SF bathroom app for iOS or Android, all for free.