I'm not a scrapbooker, journaler, or preserver of much beyond Instagram and Facebook, but I love the new Highlights of Your Life baby journal book created by Amy Krouse Rosenthal and Sara Gillingham. In my own  baby books, my children look like they stopped growing at about two years old and I'm pretty sure they have no recorded Christmas presents, teeth, or Halloween costumes after age 3. It's just the nature of most baby journal books — there's very little time to write in them and once you get behind, it seems like a lost cause.
This journal, with a fascinating pairing of your smartphone is different.
From a traditional journal standpoint, it works like a simple, no-pressure baby book. You can pick it up at any time really and jot down little paragraph long snippets using the journal's creative prompts that are brought to life with sweet illustrations. It doesn't matter if your son is already seven, it still works (unless your memory is really bad). And I like that the prompts are for original kinds of questions like "letters to my future self," our favorite babysitters, or what I think you'll be when you grow up–and what your children think they will be too.
But what makes it unlike any other is that there is a special spot where you can connect your mobile phone (or any light, really) and use the flashlight to illuminate lots of cute cut outs. So the birthday pages have cakes with "lit" candles and the school buses have working headlights.
That's sure to keep the kids interested in looking at it (and helping you write in it) for many years to come.
The smartphone connection with the journal isn't just a gimmick though; the authors also give you prompts to use your phone to further preserve memories while actually working in the journal. For example, they suggest you use your phone to record a child's letter to his or her future self after it's written down.  I love that idea of seeing and hearing their words some day down the line and it's a great reminder of how high-tech and low-tech can work together beautifully.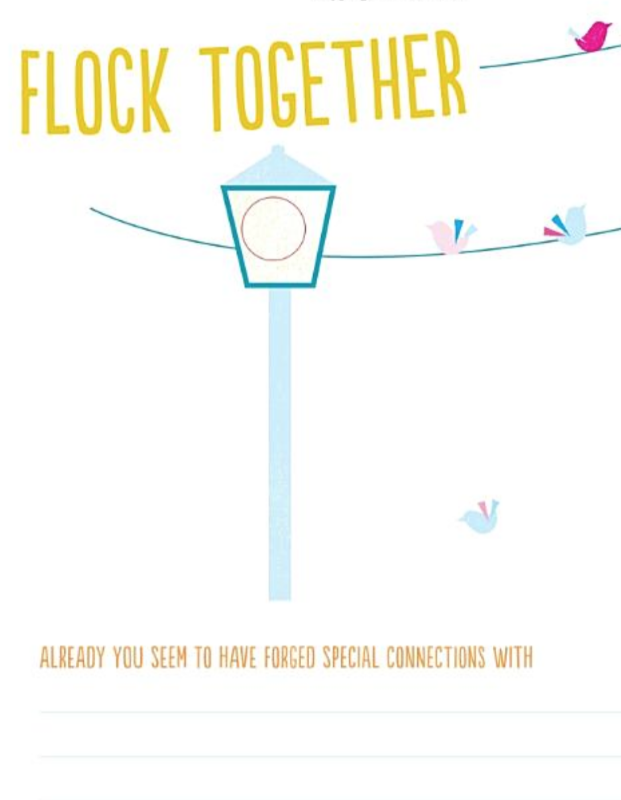 Of course as with any journal, you still have to take the time to write in it to make it a keepsake. But this seems like one even I can do.
The Highlights of Your Life baby book journal is available at our affiliate Amazon, or your local indie bookseller.  If you want to see it in action, check out this video. They make beautiful baby shower gifts–or a first Mother's Day gift or Father's Day gift too.