I may have a bunch of races under my hydration belt, including a full marathon [ed note: whoo, Julie!], but I still rely on rockin' playlists to keep me going, which is why I'm absolutely loving the Rock My Run app (iOS and Android) and all of their cool, DJ-created playlists.
No matter what kind of music you like, there's something on Rock My Run for you: House, hip-hop, country, oldies, 80s (and no, that's not the same as oldies…ahem), Christian rock, and even classical. I loaded up an 80s playlist called Miles Fly By for a recent eight mile trail race, and I listened repeatedly to a hip-hop playlist called Flava for Your Run on a long bike ride last week.
Because professional DJs have mixed the tracks and worked smooth transitions into the playlist, there's none of that dead air or those long lead-ins and fade-outs that can derail you. Each song segues into the next without missing a beat, literally. There are some great club remixes and mash-ups too; I was pretty surprised by how well many of these songs flowed together, and that made it even more fun to listen and kept my mind off the hills I was climbing.
You can listen via their website, but I really suggest you get your mixes through the app whenever possible. You'll need WiFi in order to download new mixes, so be sure to do that before you head out. (Unless you have free public WiFi where you live, lucky you.)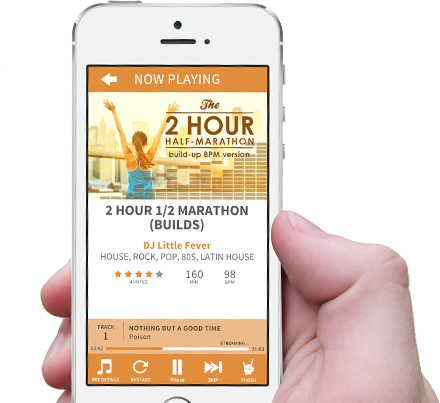 What's super cool is that just recently, Rock My Run introduced a new feature called myBeat MatchMe in which the app senses your running cadence and adjusts the playlist beat per minute. Insane, right? My cadence is all over the place because I typically run outside with lots of rolling hills, but this feature could be awesome on more consistent terrain or a treadmill. Just pick a playlist that has a constant BPM and choose myBeat.
I'd recommend finding one that's not too far off from your natural cadence though; when I tried myBeat MatchMe on a 130 BPM playlist, it sounded a bit like an LP playing at 45 RPM. I'm not the only one who remembers what that means, right?
myBeat MatchMe is a Premium feature, which requires a paid membership — $4.99/month or $35.99/year, so you have to figure out if that aspect makes sense for you. However premium membership also gives you access to longer mixes that top 45 minutes. Still, there are plenty of shorter mixes available for free, which is a perfect way to see if Rock My Run really does rock your run. Or walk. Or bike ride.
Download the free Rock My Run app for iOS on the App Store or for Android on Google Play. And check out the the Rock My Run FAQ  to see the differences between listening via app or the website.