In addition to fun-sized everything, one of the best parts of Halloween is seeing all of the adorable (adoraboo?) photos of people's kids in costume. Some of you are so clever with these costume ideas you dream up for your kids! We wanted to help you show off the amazing finished product in the best light possible, so to speak. While we've offered tips for taking the best Instagram photos of your kids, and the rules still apply, here are my 7 more specific tips for taking Halloween photos of your kids in costume so they look as awesome as the kids themselves.
[top photo: Photographer Paul Ferney for Oh Happy Day.]
1. Get an early start
As a parent, this is one that has really helped me a lot. These days, kids' costumes are more involved than poking three holes in a white sheet and flinging it over your little ghost; there are belts and buckles and wings and wigs and capes and fake muscles to layer on.  This means it can take time to get them all dressed up, and saving the photo-taking for the last few minutes before these excited kids run out the door could spell meltdowns, messed-up costumes and blurry photos. A smart move is to start early.
Plan to take pictures well before the Halloween parade or the neighborhood party or the sundown trick-or-treating begins. You can even consider doing a mini photo shoot the day before Halloween instead. Think of it as a practice run, to make sure that face paint will actually stay on for more than six minutes.
2. Skip the flash. Mostly.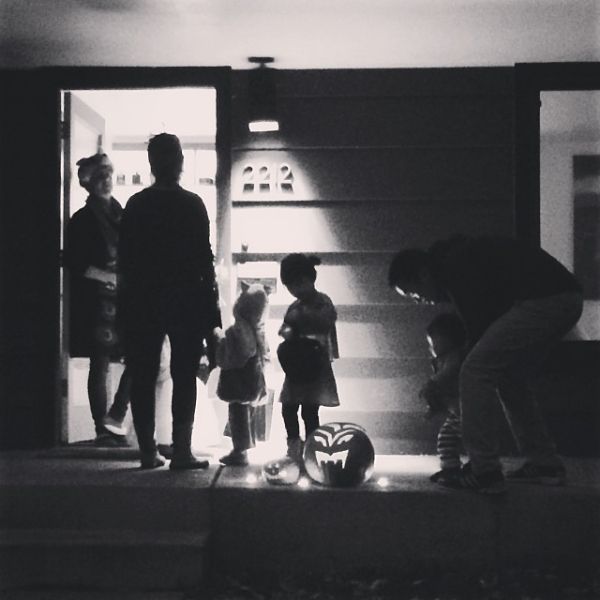 [photo: @hkroggins]
As I've mentioned before, always opt for natural light for your photos whenever possible. Even with the best digital or smartphone camera, a flash tends give the picture a harshness you want to avoid. Going for natural light ties nicely with the "get an early start" tip above. Take your kids' photos in the remaining daylight, before evening festivities kick-off.  Outside, by the front door or on the front steps, is always good spot.
Here's one exception: If you really want to get a snap of Snow Queen Elsa whipping up an ice palace in the living room with her fingers or a silhouette of the actual moment of trick-or-treat truth, use your flash … but add a black and white filter on the pic afterwards; it really helps to tone down the harsh lighting.
3. Get a little closer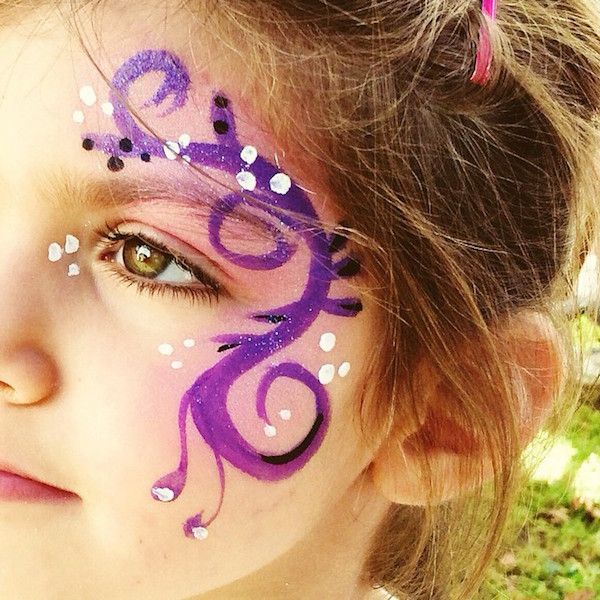 [photo: @Mommyshorts]
Costumes can be all about the details. Too often we tend to stand back to get a full head-to-toe photo of the costume, and that can include busy background distractions. Move in close to your kids; get into the fine print, so to speak, of the costume. It may be a single detail that actually captures the gestalt better than a whole costume.
4. Don't forget the background!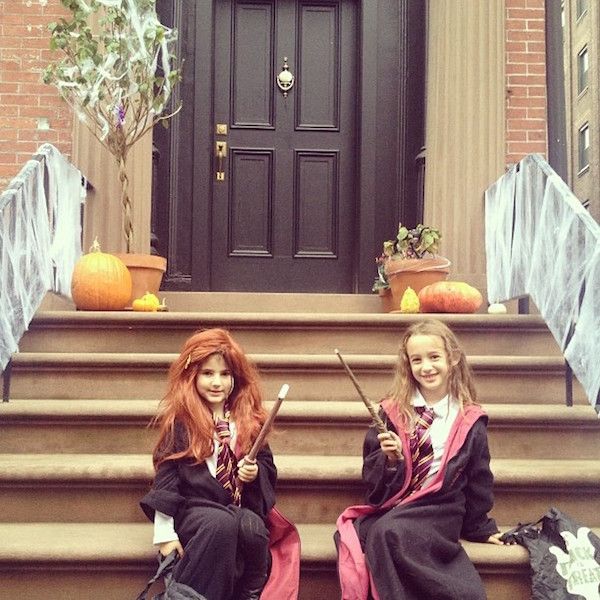 [photo: @mom101]
Explore different locations that make cool, creepy backdrops: a forest near your house, an abandoned rail yard, a park. Or go for something neutral that lets the Halloween costume really stand out, like a simple wall (also shown below). I like the idea of tying in your background with you kids' costume, especially if you went all out with the faux cobwebs and spiders for decorations at the homestead. Here, our editor Liz caught some Hogwarts-loving symmetry in this pic of her little Hermione and Ginny.
5. Let kids be kids: Use their energy.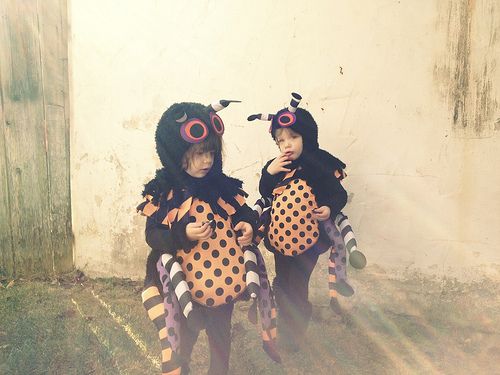 [photo: Girl's Gone Child]
Trying to make your five-year-old stand still in a stiff, hand-by-your-sides pose is often no fun. (Despite how fantastic the little sea captain up top looks.) Kids move, so move with them. Have your not-quite Teenage Mutant Ninja Turtle get into character with a full hiya facial expression as he kicks, jumps, flexes, and shows off his smooth, ninja moves. Snap a mid-transformation Transformer, or a gavel-wielding, lace collar-wearing Justice Ruth Bader Ginsburg.  Yes, to all of it! Action shots are always cool, and help to capture some of the excitement in the air. Or maybe your kids have the opposite energy, like these two adorably curious, vaguely hesitant itsy bitsy spiders. Whatever it is, let your kids do their thing.
And hey, if they're not acting out their characters and just acting out, that can be cool too. If your little witch is ripping off her wig, go with it. If your mermaid gets stuck wearing a raincoat in bad weather, that could be unique and pretty rad. Sometimes the funny, imperfect moments make the best photos.
6. Try the opposite of the expected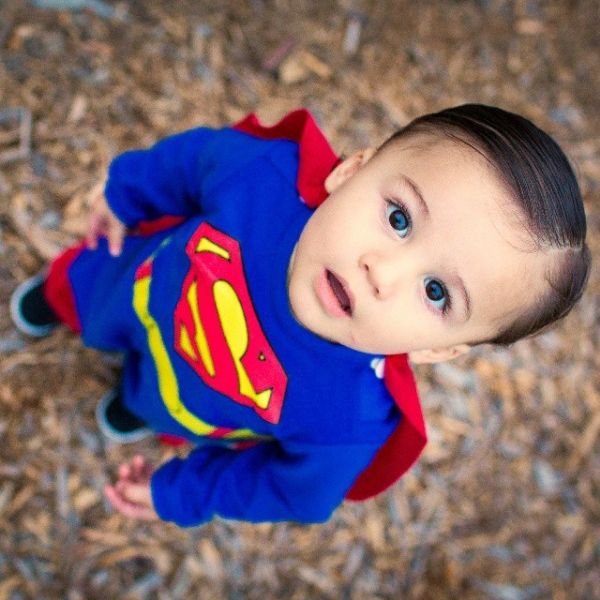 [photo: @jrlowe14]
Instead of a posed-against-the-front-door photo, try something a little more creative. Get in some tummy time of your own in the backyard to capture a pic of that special baby girl carrot who's nestled in the grass. Or elevate yourself on top of  a park bench while you snap photos of you tiny Man of Steel about to take flight. The contrast in this photo is so amazing, because we're used to snapping super heroes from below to make them seem larger than life.
Now, imagine a candid shot of a princess throwing a tantrum, a quiet reflective moment with your little Jedi knight, or your mini 50's starlet walking away from you barefoot, carrying her not-so-high heels in her hands.  Those shots may be more fun than whatever perfect picture you might have had in mind.
Also, fiddle around with the filters on photo apps or Instagram for added ambiance. The point is, mix things up and just have fun — remember, it's Halloween!
7. When the night is over, keep shooting.
It's not over til it's over on Halloween. Consider getting a post-trick-or-treating, candy coma shot at the end of the night with costumes undone and the kids totally wiped out. Throw a fun Instagram filter, like Earlybird, on there for effect, and that picture is one for the books.
Also check out our tips for taking the best Instagram photos of your kids. and to have more fun with your photos, catch our tutorial on easy ways to make creepy Halloween photos using PicMonkey.