My house has more than one room in it. I'd bet this doesn't surprise you, but for years our thermostat hasn't seemed to grasp this idea. I've long suspected that it doesn't accurately reflect the temperature in my bedroom, or in the kitchen, or in my office, even though all those rooms are heated and cooled by the same HVAC unit the thermostat controls. And my hunch has been confirmed now that I have an ecobee3 Smart WiFi Thermostat.
Unlike other smart thermostats, the ecobee3 uses remote sensors to register the temperature around your house and report back to the main thermostat. After using it in my own home, I can tell you how important this is.
For example, I like my house to be 68°F at night—a nice, cool temp for sleeping or watching TV with a blanket over me. Or so I thought. Now that my thermostat is getting accurate info from every room, it turns out 68°F is downright toasty. So I've turned the heat down and am looking forward to saving some money, which is a pretty big deal to me.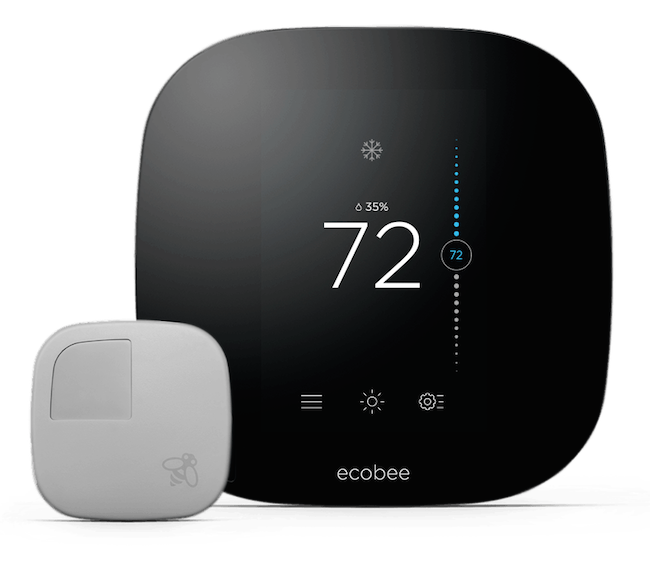 The ecobee3 is so easy to use, from the installation—I promise you can do it yourself; no need to hire an electrician—to the step-by-step instructions for customizing your settings. Sleep, Home, and Away settings are the foundation you will build on, and then you can make it fit your family's specific schedule from there. So, if you know you'll be at your child's ballet practice every Thursday from 4-5 pm, you can set it to conserve heat during that hour but still have it nice and warm when you get home at 5:30. That way, you can divert money away from your electricity bill and toward your holiday shopping. Yay!
If that ballet class gets cancelled one week, you don't have to reprogram the whole system to override the pre-set schedule. At any point you can raise or lower the desired temperature, or just touch the "home for now" or "away for now" setting to switch to those pre-sets.
Or, let's say you decide to go out to dinner with friends after ballet practice. Just pull up the free ecobee3 app — available for both iOS and Android — on your phone, tablet or computer, and adjust the settings to fit your new schedule. I love how the ecobee3 Smart WiFi Thermostat is really as flexible as you are. Plus, adjusting the temperature at home from my phone in a restaurant makes me feel like an über-cool, environmentally friendly James Bond.
The ecobee3 is priced competitively with other smart thermostats on the market, and it has some features (like a touch screen and a Home IQ energy use report) that other smart thermostats like the Nest and Honeywell Lyric don't have. But the biggest reason to make the upgrade from a basic thermostat to the ecobee3, in my opinion, are those remote sensors that will give you a much more accurate reading on your household temps and save you money in the long run.
You can find the ecobee3 Smart WiFi Thermostat online or at Best Buy and Apple stores. It comes with one remote sensor, and you can buy additional sensors for an even more accurate reading in your house.
Thanks to ecobee for sending a sample unit for us to try out.