We've covered plenty of Bluetooth speakers here on Cool Mom Tech, from teeny, slide-in-your-pocket speakers to rattle-the-wood desk, powerhouse ones. But when I saw that Harman Audio — the world's largest car audio manufacturer — was behind the new Infinity One Bluetooth speaker, I knew I was in good hands.
The Infinity One has six speakers tucked into its cylinder-like body, and each one is focused on bringing you high-quality sound. And having that powerful 25-watt amplifier in there too doesn't hurt one bit. You can really hear the bass coming through strong. To quote my husband — a total sound hound — it's got a nice bump. Whether you're jacking up the volume to the maximum for your tunes or you're using it as a giant speakerphone to make calls, everything is crystal.
I could see this sleek speaker fitting in well over at my guy's office. He could use it for streaming music, hands-free conference calls, or for a quick charge on his smartphone — because the Infinity One can do that too, thanks to the USB port hidden on the bottom of the speaker. The promise of 10 hours of continuous play time from one charge was also a definite plus.
This high-performance speaker was designed in collaboration with rock band Linkin Park. I know this because I found it printed in multiple places, from the packaging to the speaker itself, which was a slight turn-off for me. But it's not like the Infinity One only plays Linkin Park songs. (No offense meant, Linkin Park fans.)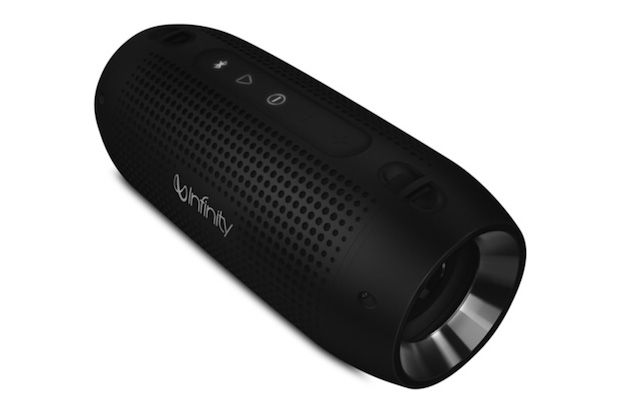 I did like the backlit button controls on the top of the speaker. They are soft, but effective — meaning that when you press the button to raise the volume, it actually works, and with the easiest touch of your finger. No hard, repeat pressing necessary. Surprisingly, this has been an issue with a few other portable speakers with soft buttons.
Another set of cool points go to the Infinity One for super easy Bluetooth pairing. And, even better, it remembers previously connected smart devices and automatically reconnects the minute you power up.
While the Infinity One is more of a splurge than say, more budget-friendly wireless speakers we've recommended before, it's a solid option for a high-end portable Bluetooth speaker. The Infinity One is a cool all-in-one package; a perfect gift for the music-loving guy in your circle of friends and family.
The Infinity One bluetooth speaker is available on the Infinity Speakers site for $299.95.