Oh friends, you probably know as well as I do how annoying it is when your long charging cords don't reach where you need to be because they are not really long enough. As in, they are never long enough. This is why I will be ordering up a NIGHT cable (or two) from Native Union, which brings me back to my high school days of wall phones, where those super long stretchy cords allowed me to walk into the next room for slightly more private conversations away from the ears of my brother.
Native Union makes such fantastic tech accessories and the NIGHT cable is no exception. It's not just super long (3 meters–or more than 9 feet) but has a cool adjustable knot that helps it stay in place. It's really a terrific travel gift, as you might know if you've ever tried to make a phone call with a two-foot cable plugged into a hotel room wall outlet that's three feet away.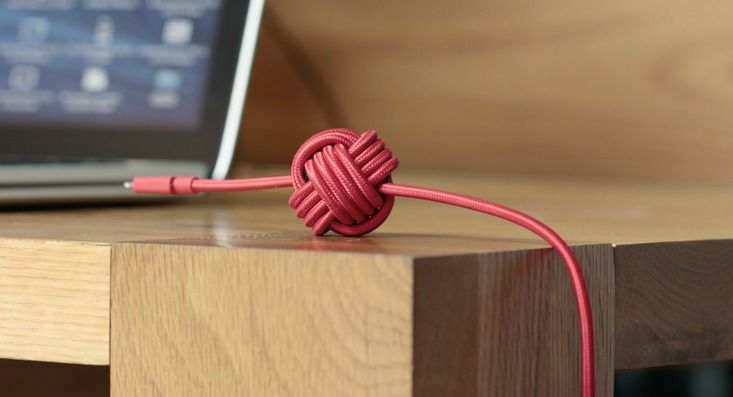 The cable is available for both iOS and Android devices and in my world where not being tethered to an outlet 6″ from my head is key, it doesn't get better than this.
Or hey, if you want it on the go, check out  their KEY cable, which thankfully is not as long as the other since it's designed to hang from your keychain for some charging accessibility on the go.
Finally, I have to put in a plug for my POWER link tassel charger from Native Union considering it is now with me wherever I go. Seriously. Everywhere. This is like stylish tech accessories at their finest.
You can purchase the NIGHT cable extra long charging cord at Native Union which sells a ton of awesome stocking stuffers.
Need more cool tech holiday gift ideas for everyone on your list? Make sure you see our Holiday Tech Gift Guide.