We've already declared that 2015 is the Year of Better Sleep, so here we are with even more helpful techie ways for all of us to get those good Z's.
I tried two more of the latest sleep tracking apps to see whether they'd be a good fit for parents. Here's what I thought of both of them: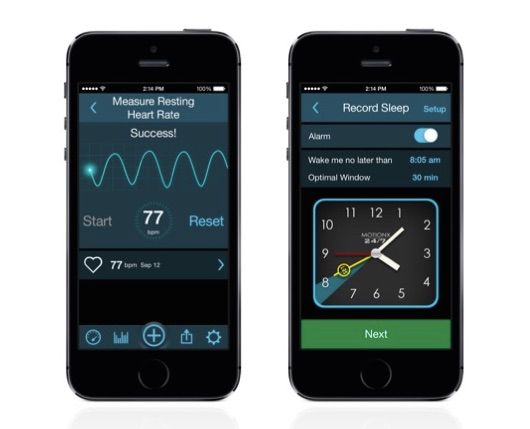 MotionX is considered one of the leaders in wearable tech, so it's no surprise that they've created a sleep tracking app. But I like how MotionX 24/7 does more than just track nighttime snoozing. You can also record the sounds of the room — like snoring or a drippy faucet — that may affect your quality of sleep. Plus you can clock power naps, which are a total sanity saver for many parents.
Another really cool feature we haven't seen before in a sleep tracking app: MotionX 24/7 lets you measure your resting heart rate when you wake up. Just place your index finger lightly over the iPhone camera. Kind of cool to see how your resting heart rate changes over time, especially if you've started an exercise routine. And speaking of exercise, MotionX 24/7 can also track how active you are (or not) during the day.
MotionX 24/7 is comprehensive and easy to use, and I felt like I got solid intel on my sleep habits in order to improve or change them. The only thing I wasn't too excited about was having to place my iPhone 6 in the bed — as in, between the fitted sheet and the mattress in order to get accurate monitoring. The only alternative is to use an armband, and that doesn't seem comfortable to me. But if you don't mind sleeping on your phone or wearing it on your arm, this app is a good bet. (Available on iTunes for $0.99)
Related: The Sense sleep monitoring system
What makes MobileSleepDoc Pro cool and different is that in addition to tracking your sleep, this app is also kind of like participating in a mini sleep study. It takes you through a series of questions about your current sleep habits and then, using your answers, it tries to determine whether you show signs of having a sleep disorder, such as insomnia, sleep apnea, or excessive daytime sleepiness.
Thankfully, MobileSleepDoc Pro confirmed that I do not have any of these problems. But if you do — and so many parents walk that fine line between being sleep deprived and battling bouts of insomnia — this app sets out to get you some help, answers, and (hopefully) relief.
The app also acts as a online log for all of this sleep information that you can take to your doctor to discuss next steps, such as further testing or treatment. You can also use the app to find local sleep centers, and it offers therapies that you can try at home too.
The MobileSleepDoc Pro interface is clean and simple, and navigation is pretty straightforward. I like that the app syncs with Fitbit to automatically capture sleep data. But even if you don't have a Fitbit, MobileSleepDoc Pro is a great resource on its own. (Available on iTunes for free)
Read more on the coolest new sleep gadgets to help you get your snooze on.