When it comes to fitness bands, the Jawbone UP vs FitBit Flex are the two comparisons that come up in every conversation I have. So for the last few weeks–yes, even during the holidays–Julie and I have been using them both to track our own activity and sleep. Or, uh, lack thereof. We are parents after all.
If you're wondering which fitness tracker is right for you, here are our thoughts on both devices. While there are other sources for all the technical specs, we're sticking to the big picture–what you get, how they work, and why you might prefer one over the other.
The third version of the Jawbone UP (now called Jawbone UP24) looks and feels like the previous two. The UP24 is actually a fairly stylish band with an easy-to-read interface that tracks your activity, calories, as well as your sleep–so long as you remember to pop it into sleep mode, which is very easy, thankfully. Charging requires you to pop a piece off the bracelet (don't lose it!) so you can plug it into your phone, but wow, it's got an amazing battery life. And it now syncs wirelessly to your phone using Bluetooth which is a joy.
The Jawbone UP24 app, unfortunately is only available for iOS at this time; Android users can still get use the previous Jawbone UP which doesn't have the Bluetooth syncing but is otherwise pretty much the same. Jawbone claims to be working furiously on bringing the 24 to Android soon and we're keeping fingers crossed.
If you are an iPhone user, you'll find the app does a fine job of tracking activity changes, like walking vs. running. However, if you're an extreme exerciser like a marathoner or triathlete, you'll want to keep your own tracking too, as the Up really only shows you more versus less active. Also note it's not waterproof, so you'll need to manually track any water activity.
One of our favorite parts of the Jawbone UP24 is the sleep smart alarm, which will wake you up based on previously-tracked sleep habits with a gentle buzz during a specific window of time to minimize grogginess. Indeed, it is smart.
However the idle alert, which can let you know when you've been sitting around for too long, didn't work so well for us. It's possible it's our own user error, or that we're rarely idle. Busy moms and all.
Sizing is very important with the UP24, so be sure you check before you buy. You don't want it to be loose like a bangle. And because it's not closed, kids can pull it off; trust us on that one. I also love that you can connect with other friends and users, even share photos (including your meals if you like), for a little healthy competition.
Bottom Line:  If you're on your iPhone all the time as opposed to a laptop, really like the sleep smart alarm idea, and prefer something more stylish to wear on your arm, go with the Jawbone. And if you've got friends who are Jawbone users, you can work together to meet your fitness goals.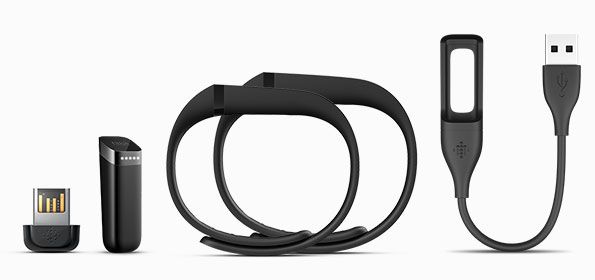 The FitBit Flex definitely has a few features I love, including a suite of colors that the newer UP24 doesn't yet have. But that's not the only reason I like the Flex. One big thing: It syncs with a desktop or laptop as well as your mobile device. As someone who's on her laptop all day for work, this is an important feature for me.
I did find the band to be a bit hard to get on and off alone. It definitely took me some time to get the hang of it and even then, I still found myself fumbling. Because there are different holes, however, the sizing is a little easier to figure out than the UP24 without any real measuring on my part.
To charge the Flex, you have to take the tiny gadget out of the band and plug it into the charger, which in my world means a lot of pieces you could potentially lose. My fix: Keep your flex charger in the same place all the time, and charge it anytime you can't wear it, like if you're swimming laps.  It is water resistant, so no need to take it off  in the shower, but I wouldn't suggest you play water polo or anything with it on.
I really like how the data is presented on the web and the mobile device; I personally found myself checking on my laptop due to the awesome layout and clearer picture, but it's just as nice on mobile too.  And now with the new FitBit Force, you can see all your data, including steps taken, calories burned and more, right on the gadget–which makes this nerd very, very happy. Thankfully, it's not really much bigger than the Flex so you won't feel like you're wearing a big watch.
I did have a few issues switching the Flex to sleep mode. Some of it was user error–I would forget to make the change, or simply have issues reading the lights which indicate that it's already been made–but overall, I find the Jawbone easier to switch. And you can set alarms on the Flex as well, for specific times throughout the day or night.
Bottom Line: If you're a heavy laptop or desktop user, like the idea of a simple bracelet that can't be pulled off by kids, or have lots of friends who are FitBit users so you can team up, go with the Flex. And if you are a data hound like me, the FitBit Force is awesome. 
For more awesome fitness gadgets, make sure to check our archives.
EDITOR'S NOTE: The FitBit Force has been voluntarily recalled due to skin irritation reports from some users. They are offering a full refund to users. Check out their website for information on how to return your product and receive your refund.