Like we always say, the safest way to use your phone while driving is to not use your phone while driving. Duh, right? And it's something that's really top of mind for us this holiday weekend, when cops are out on the roads full force, and the anti-texting and driving PSAs are blanketing the radio. As we all know, it's distracting and has the potential to be very dangerous. That said, I know that sometimes there is an urgent need to take a quick call while you're behind the wheel, in which case using a hands-free speakerphone is still your best and safest option.
The Minikit Neo 2 HD is the latest in Parrot's roster of voice-controlled, portable, hands-free Bluetooth devices. The device itself is slim, neat and slips right on to your car's sun visor like a automatic garage door opener. And with the free companion app, the Minikit kind of turns into  mini personal-phone assistant.
You can accept or reject phone calls just by speaking the words "accept" or "reject." Minikit will also read your texts to you, and with the help of  speech-recognition software, it claims to text back with your spoken replies. For some reason, that particular trick didn't work for me though, but it seems that others have gotten it to work.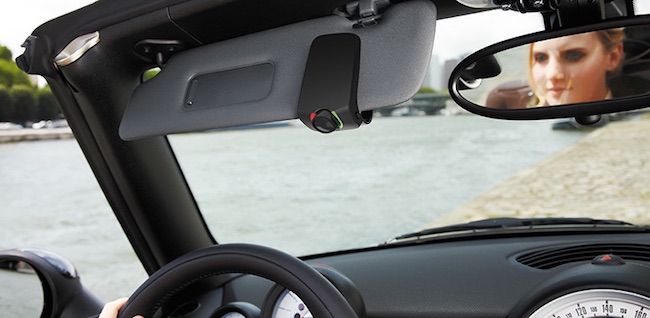 The best part is, once connected, the Minikit is truly hands-free. No fussing with buttons; it turns on when you enter the car thanks to a vibration sensor, which shifts into power saving mode once you get out of the car.
I also like can access good ol' Siri on my iPhone using the keyword "Hello, Siri" instead of fumbling to press that home button, or holding the iPhone up to my mouth. If your foot is on the gas pedal, just let the Minikit deal with Siri on your behalf. Or better, wait until you're pulled over. We bet that most of the time, those calls really can wait.
The Parrot Minikit Neo 2 HD is available from our Amazon Affiliate, on sale for $82.51.