Living in these fast tech times means having to pause to power up our devices. It's just part of the deal, right? And when we're on the go, this often means searching for a free outlet, sometimes in strange places. But what about when you have more than smart device to charge? Thankfully our friends at Bluelounge are here with the new Bluelounge Portiko, a 6-foot extension cord with 2 outlets and 2 USB ports.
The power cord allows you to plug in two laptops, a tablet, and a smartphone at once, all on one outlet. Plus, one of the USB ports is dedicated to charging iOS devices at full speed – just for you, iPad lovers.
A self-adhesive metal plate means you can mount the Portiko on a wall or desk for optimal space-sharing efficiency, or just take it with you when you travel.  But I could see it coming in handy in our living room for family screen time? — which, by the way is also a good way to keep an eye on what your kids are watching on their devices while they charge up.
Related: 7 cool cord management solutions to get your home office organized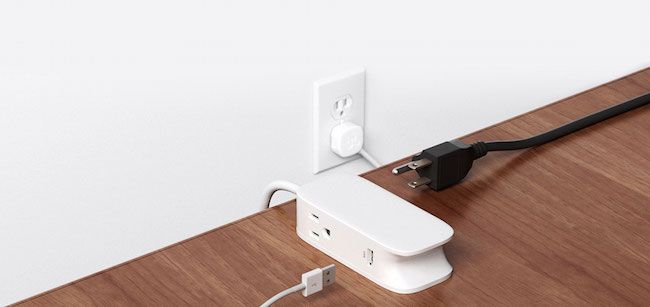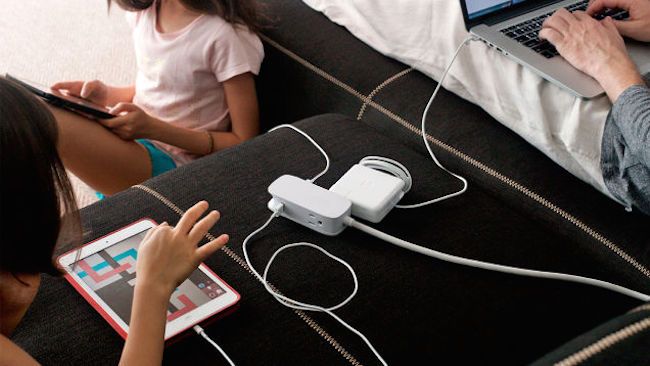 The cord comes in a standard white or a kicky blue, and it's light and neat enough to toss into your carry-on or tote so you're always rolling with power when you travel. But what I like is that it seems practically made for hotel rooms, with their sometimes limited and awkward, hidden-behind-the-bed outlets.
Ever tried to unplug that useless clock radio on the nightstand to get some more power options for your devices? Exactly.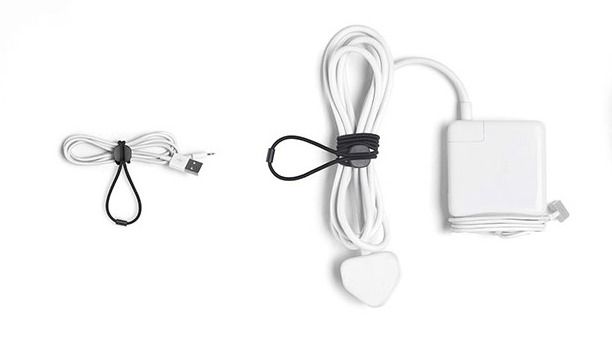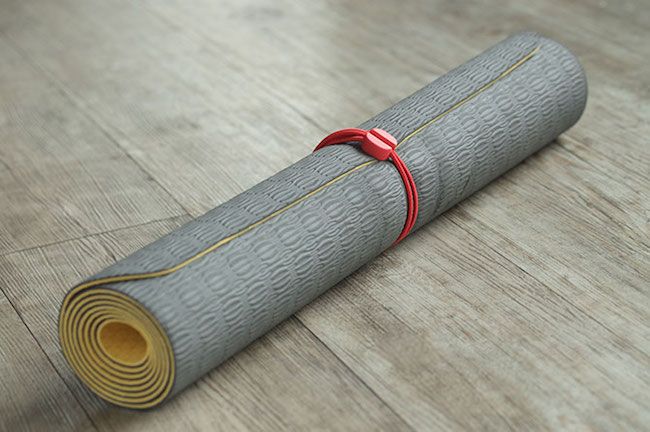 Also new from Bluelounge is Pixi, another one travelers will love. This adjustable and reusable multi-purpose zip tie bundles anything from device cables and cords to yoga mats and travel accessories, should you be unplugged at some point in your life. (What?)
The small Pixi package comes with 8 grey and black or orange and blue units; ideal for tying up tech device cables. The medium ties in green and black are great for stereo equipment and household stuff like a garden hose. While the large size gives you 4 red and black Pixi ties; perfect for yoga mat or camping gear.
I really like all the uses for the colorful ties. Makes me feel like my new clutter-free habit is happily spreading beyond the home office. Definitely a good thing.
The new Bluelounge Portiko extension cord is available now for $24.95 and the Pixi multi-purpose tie packages are $9.95 each.