If you've ever sat at a table in a restaurant for 15 minutes (sometimes longer) with fussy, restless kids, waiting for your server to bring your check so you can leave, then you should download the Reserve app (iOS and Android) right now, especially now with their latest updates, which let you do waaaay more than just hit the road as soon as you're done with your meal.
We've loved Reserve for awhile now — in fact, our food editor Stacie recently shared her favorite tips for skipping the kids' menu without breaking the bank on their blog. And yes, our editor Kristen's boyfriend works for them. So yes, we're biased, but it's not hard when the app is so darn good. Here's why we're such big fans.
Related: Taste Savant: A new restaurant review site for discerning foodies. As in, not Yelp.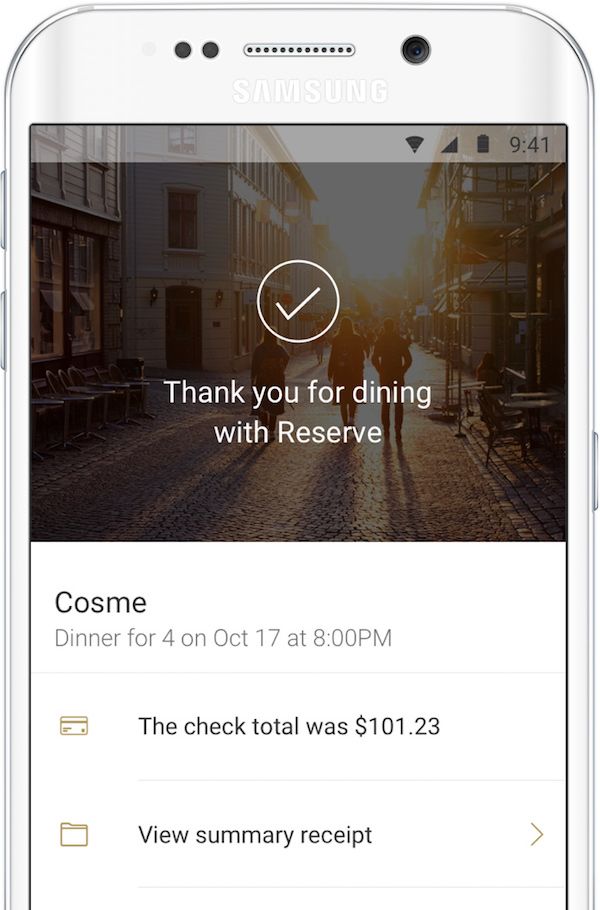 Related: Gogobot books travel, hotels, and restaurants right from your Android.
This free app is a quick, easy way to find great local restaurants in your city, then book a table, in many cases for restaurants that don't typically offer reservations. Just pick a spot, choose a time, and you're set.
But when you can't find an available time is what makes Reserver a stand-out. Their handy concierge service works with the restaurant to see if they've got something in your time range. Whether it's a couple seats at the bar or the chef's counter, or a waitlist for a cancellation, they'll do their best to find a way to get you in there. So great for parents who have limited days and times to begin with.
And the icing on top of the cake is their pay-through-the-app feature, because when our kids have finished eating they're ready to go. Sitting around and waiting a long time to pay doesn't make sense to them (or us, frankly). Add a tip, close out your bill (you can even split it with friends), and then can head out the door whenever you want. So smart.
Get a seat at your favorite local restaurant in Philadelphia, Boston, Chicago, New York, Los Angeles and more major US cities through the Reserve app, available for iOS, Android and online.