Yay! We're so happy to be back with our annual Cool Mom Tech Holiday Tech Gift Guide, all fresh and new for 2016. And to kick it off, we've got the coolest educational tech toys for kids of all ages.
Whether you're shopping for a curious preschooler or a teen who loves STEM, we've got 12 ideas that will keep your favorite kids busy, happy, and learning.
Of course, it wouldn't be a Cool Mom Tech guide without a fab giveaway. This year's fantastic prize: A brand new iPad Air 2 and designer case!
Because with so many awesome tech toys for the kids here, we had to offer something up just for you too, right? Unless you want to share. But that's totally up to you.
– Don't miss a chance to win an iPad Air 2 and designer case  from Cool Mom Tech!
Details below –
There has been no compensation for inclusion in our guide; all items are selected by our editorial team. CMT is an rstyle and Amazon affiliate.
Educational Tech Toys for Younger Kids
This clever toy teaches young kids the concepts of coding, even before they know how to read. No screens required, either. Along with this cute little robot, you'll get maps, stories and more, all of which will keep kids engaged without the glowing light of an LED screen — or your cellular data. ($225+, Primo)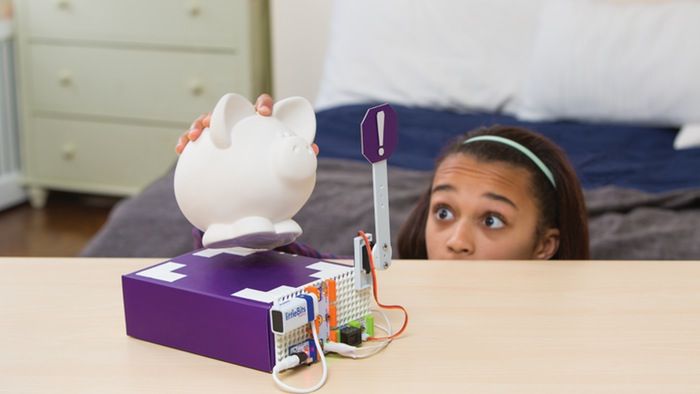 Our own kids adore littleBits kits and so do we, since they give curious kids so many ways to create their own super cool inventions through circuitry. Their new Rule Your Room Kit gives kids the tools they need to make all sorts of gadgets out of stuff they might have sitting in their room. Hmm, we wonder what our tweens could make out of piles of laundry and potato chip bags? ($99.95, littleBits)
Related: The coolest STEM gifts and toys for kids of the year
For a fun, hands-on tech toy that's perfect for preschoolers, the new Fisher-Price Code-a-pillar is a great choice. We featured it when it first launched earlier this year, and since then, so many parents of littles have let us know that it's been a sound investment. Kids will be exposed to the most basic concepts of coding by rearranging the noise-making sections, then watching how their choices affect the way their caterpillar moves. ($49.99, Fisher-Price)
For Play-Doh loving kids, their new new TOUCH Shape to Life Studio makes a fantastic educational tech toy for holiday gifting. Kids create various Play-Doh creatures, then you can scan them using the free companion app on your smartphone or tablet. In a matter of seconds, their original creation is plopped into the middle of a video game that's both educational and super engaging. Just don't be surprised if a poop emoji makes its way onto the screen. It only took our own kids a few minutes to get there. ($39.95, Apple)
Related: 3 fantastic STEM toys for preschoolers
Educational Tech Toys for Older Kids, Tweens + Teens
There's no shortage of fun things you can do with Osmo, one of our favorite educational tools since its launch, because they keep creating fantastic additions you can use with your existing Osmo. Kids as young as kindergarten all the way through middle school will learn STEM concepts like coding with the hands-on experience of playing with real blocks, taking the learning beyond what they get from typical screen time. ($49.99, Amazon)
Kids absolutely love building their own robot, airplane, and more with Cubelets, magnetic blocks from Mod Robotics Studio that can be manipulated and controlled via a companion app. If you've got LEGO lovers, or kids who love building with their hands and want to take it to the next level, this is a tech toy they'll adore, whether you start with the set of 6 or splurge on the 12-pack. ($159+, Amazon)
Related: 5 cool STEM toys for kids that are all about math
From the makers of the brilliant Anki Overdrive race cars which we've loved, comes this new AI robot pet that kids can customize to do all sorts of very cool things. So perfect for the limited daylight of winter. In fact we love it so much, you'll also find it in our Cool Mom Picks holiday gift guide as one of our favorite splurge gifts for kids you really want to spoil.  ($179, Amazon)
If there's a tech toy our kids keep coming back to over and over again, it's the adorable Wonder Workshop Robots, Dot and Dash, which grows with them. These little guys teach kids of all ages about coding, engineering, and more. You can buy them either together or separately — though we think you get more out of the pair — then program them for progressively harder, more complex tasks as your kids get older, whether it's delivering snacks, shooting catapults, knocking down LEGO towers, or bothering siblings. Ha. (prices vary, Wonder Workshop)
Parrot is a recent Cool Mom Tech sponsor but a longtime favorite of ours — and tons of kids and adults who are obsessed with their truly top-notch minidrones. There's a good selection so you can find the perfect holiday gift for kids, tweens, teens, and even adults who want to try their hand at flying a drone, and putting the laws of physics to the test. How much paper can the Mambo Minidrone grasp at once? How high can the Swing Minidrone go in a set number of seconds? All you need are plenty of batteries and the optional Flypad controller or just use your smartphone. From there, it's super easy to get all of the Parrot Minidrnes unboxed and in the air — and get your kids playing outside. Yes, even when it's cold out.  ($119.99, Parrot)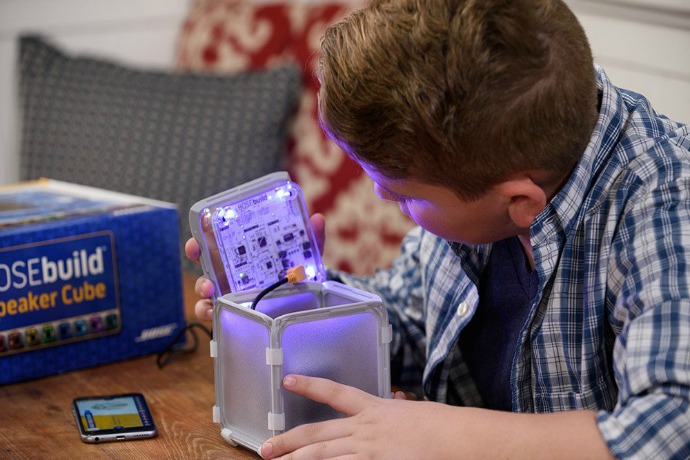 If your kids have been begging for their own Bluetooth speaker, we say, give them one they have to build themselves, first. The BOSEbuild kit comes with everything they'll need to create their own working Bose speaker. And it sounds great. Because, Bose. ($149, Amazon)
We were introduced to Bitsbox as a Spawned podcast sponsor, and since then, our kids have been creating their own apps thanks to the cool super cards that come in each subscription box that actually teach your kids how to code. The Deluxe Box comes with cool activities, stickers, an "Apper Keeper" and more, all packaged for gift giving with the first one shipped right to your lucky recipient in time for the holidays. ($19.95+, Bitsbox)
Also a top pick in our splurge gifts for kids, the new evolution of last year's hot Sphero BB-8 robot is again arguably the hottest tech toy of the year. The robot can now be controlled with the flick of your kid's wrist, bringing The Force to life in a way they've only seen in the Star Wars movies.
That said, if  you want an option that's more educational, check out the Sphero SPRK Edition which is designed to teach coding. Because your kid's own input is required to get it moving.  ($199.99, Best Buy; $89.90 on sale, Amazon)
Whoo! The Cool Mom Tech Holiday Tech Guide Giveaway
We're so excited to give away a 32G iPad Air 2 (WiFi only) to one lucky winner! 
To enter for a chance to win:
1. Subscribe to Cool Mom Tech. If you're already a subscriber, leave us a comment telling us that you are. (Be sure to use the same email that you subscribed with so we can double-check. Don't worry, no one can see it but us.)
For additional entries:

1. Follow Cool Mom Tech on Twitter AND tweet a link to this post with the hashtag #CMTHoliday. Be sure to tweet something fun, like "I am LOVING this year's @coolmomtech #CMTHoliday guide LINK!" Hey, you can even share your favorite gift idea seen here. You can get up to 7 additional entries (one for every post in our tech gift guide).
2. Like Cool Mom Picks on Facebook AND share a link to this post on your feed. Make sure to send your link (or screenshot if it's a private update) to info@coolmompicks.com with CMT CONTEST in the subject to be entered. You can get up to 7 additional entries (one for every post in our tech gift guide).
Contest ends at 11:59 pm PST on December 26, 2016. Void where prohibited. US only please, 18+, see our general contest and giveaway rules for other details. Good luck!
Visit all our holiday tech guide posts: 
* 12 of the coolest educational tech toys for kids
* 15 custom photo gifts to make your friends and family swoon
* 15 awesome travel tech gifts for the frequent flyer or weekend warrior
* 10 stylish holiday tech gifts for the fashionista
* 24 of the coolest geeky gifts for kids and teens to keep the holidays nerdy and bright
* 28 seriously cool tech stocking stuffers for everyone on your list
* 22 fantastic holiday tech deals to reward you last-minute shoppers