We're coming up end-of-the-year gifts for teachers, grads, and coaches over the next month, plus Father's Day, which often means lots of group gifts. And as you might have experienced, chasing people down and keeping track of everyone's money (all year long) can be a huge pain.
But this is the 21st century! You can do this all digitally now! Here, 3 group gift websites that might just help you put the joy back into the giving. At least, the kind that involves lots of different people.
Related: The best teacher gift ideas, from people who actually know: teachers!
HipChip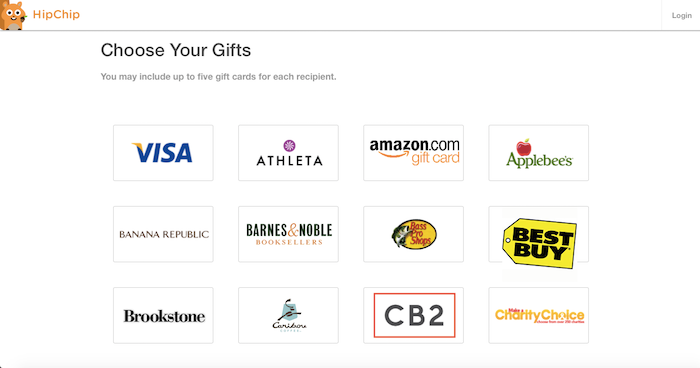 HipChip lets you choose up to 5 gift cards to give per recipient, from general shopping like Visa or Amazon cards to specific stores like Best Buy or Banana Republic. You can choose the deadline to contribute, which must be at least a minimum of one week out (you have to contact their support if you want it sooner).
As the organizer, you can see who's donated and how much, and you can even set a "required" donation amount when you send out the invitations. But note that convenience does have a cost here. HipChip takes a 50 cent fee per donation, plus the gift cards can carry anywhere from a $5 to $35 fee, depending on the amount of the gift.
Related: The very best apps and websites for gift list organization
GiftCrowd
Gift Crowd gave us a chance to try out their service, and I'm so excited about it I've already emailed my kids' school PTO president. For schools interested in using this site, you can create a "gifts page" including all the teachers at one place, so parents can donate to a gift for the librarian, the art teacher, or others who may not normally have a room parent watching out for them. They even offer an affiliate link so that every contribution made to a teacher's gift, Gift Crowd will donate a percentage back to the school. Whoo!
You can have these gifts delivered any time. In fact, I was able to set up a gift to give to my son's teacher the following day. So, as long as the other people in your group are quick to respond, this can be a really nice last-minute gift.
Another detail that sets Gift Crowd apart is that you have the option to let the recipient choose which store they want to use their gift at, from options like Sephora, Gap, Dick's Sporting Goods, and Wine.Com. Also, unlike HipChip, GiftCrowd (and eGifter, below) charges no fees for the givers or the recipients.
Related: 7 of the best DIY teacher gift ideas to make gift cards more personal
eGifter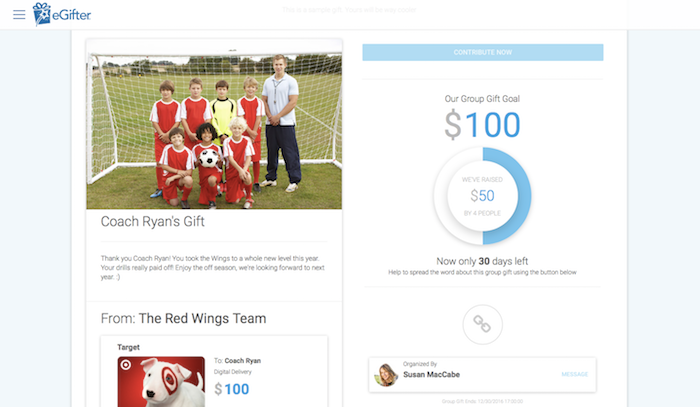 The feature that makes eGifter really stand out is the personalized touches of adding a group photo, messages from those giving the gift, and a fun card opening animation for the person receiving the gift. It takes an online gift card and makes it sentimental, even special.
You can invite others to join your gift via email, text or Facebook message, which is so easy if you have family or classroom Facebook groups, and they collect no fees. You get points as you make purchases, earning you free gift cards as you go, and you can even pay with all that Bitcoin you have lying around. But seriously, with hundreds of fantastic gift card options that you (or the recipient) can choose from, it's sure to make someone's day.