Oh hi there, fellow anxious, friends. How are you holding up? It's been quite a stressful week, and I don't see it letting up anytime soon, so I'm doing my best to give my brain a little break, and one way that I do that is binge-watching completely mindless (and yes, totally ridiculous, in some cases) reality television. I can't be the only one, right?
Once my kids are in bed, and I've disinfected the remote control for the 400th time (mostly kidding), I like to stream these television shows for a little respite from everything that's going on, and push the reset button. Humor me, will you?
Related: These secret Netflix codes can help you find hidden movies
Encore (Disney+)
I'm pretty sure that even if you are not a musical theater lover you will love this show, which has high school musical casts perform their same musical now, with a Broadway director, choreography, and musical director. Just imagine if your own class came back now, 20 years later, and performed again. There's laughter, some cringing, and a few tears. You don't even have to wait for the kids to go to bed for this one.
Great British Baking Show (PBS + Netflix)
Our whole family is obsessed with this cult favorite, where regular old British home bakers are put to the test. All the contestants are endearing and surprisingly kind to each other, and the new set of hosts are hilarious. There are a ton of seasons, so this should get you through at least an entire week of a quarantine.
Queer Eye (Netflix)
How have you not watched the new version of Queer Eye? My bet: you'll fall instantly in love with this amazing pack of gorgeous men who change lives wherever they go. Grab the tissue box because there's a whole lot of crying about to happen, of the very good kind.
Love is Blind (Netflix)
Holy crap this is a total trainwreck of a show. I stumbled upon it on Netflix and then I could not look away. Basically, a bunch of strangers date each other without seeing them, and in order for them to get some face-to-face time, they have to propose. To be honest, it lost some steam after the proposals (spoiler: people for real get engaged), and the finale wasn't as exciting as I had hoped, but it's definitely worth grabbing some popcorn and wine for a good binge.
Related: 11 family friendly shows everyone can agree on
Repair Shop (BBC + Netflix)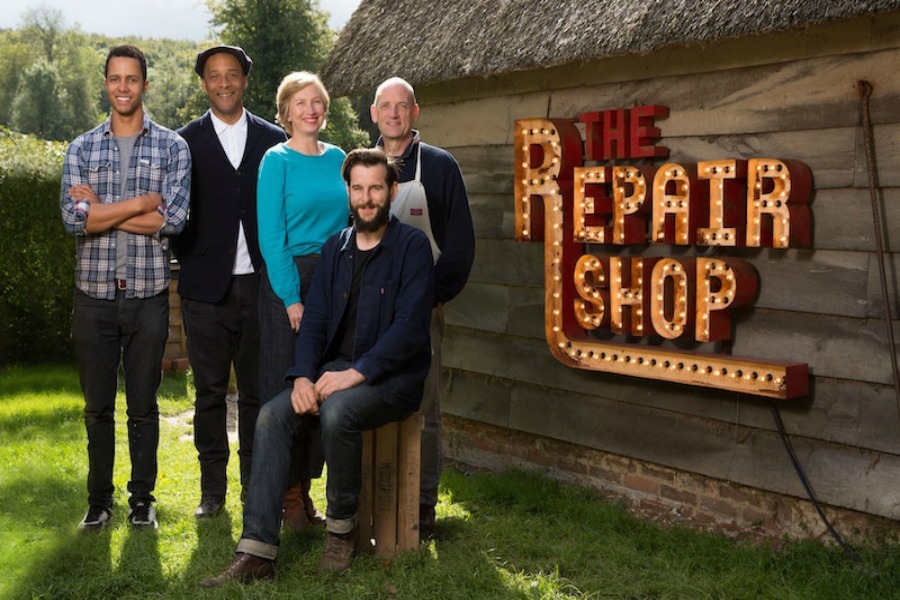 My husband sucked me into this darn show, and every week, I find myself crying over someone's repaired childhood toy. The stories are so sweet, and well, you'll find yourself digging through old boxes to find your beloved doll Gretchen who's missing an arm (only me). My kids love this show too, so it's a good family diversion.
Naked and Afraid (Discovery + Hulu) 
If you need a little reassurance that it could possibly be worse than it is right now, just watch a few episodes of Naked and Afraid. Praise be, their bits and pieces are blurred out. But oof, this show is pretty fascinating, between watching two naked people try to find water, to screaming at the television when they attempt to eat an already dead and probably infected animal, you'll feel just a little better that all you are is stuck in your house with rammy kids right now.
90 Day Fiancé (TLC and Hulu)
What happens when people meet and date someone overseas, all completely online? You get this crazy show on TLC that now has a ridiculous number of spin-offs that it's hard to keep up (but totally worth it). Case in point: A 50-something man has been dating a 20-something Filipino girl that he's never seen and is going over there to propose to her. IT'LL BE FINE. IT'LL ALL BE FINE, RIGHT? I wouldn't watch this one around the kids, mostly because you'll be screaming expletives at your television.
The Circle (Netflix)
This is actually a pretty fascinating social media experiment that even my kids were sucked into. Contestants create a social media profile (real or fake) and then try to get followers to win. I haven't yet made it through this entire show because I got sucked into a few of the other shows I have listed here, but it's quite an interesting social experiment that your kids will like too. In fact, it started a lot of conversations about how you present yourself on social media and interact with your friends and followers.
Bonus: Hey, it's not a reality television show, but it's a sweet, fun podcast called Meet Cute. If you listened to Spawned, you might remember our recent live episode and our guest, lead writer Robert Wilder. I've been listening to these 15-minute rom-coms (they are released on your favorite podcast app a few times a week) and they've been the perfect diversion from all the "wash your hands!" news that keeps being shouted at me on my computer screen and phone. You'll laugh, you'll cry – you might even want to go have sex with your partner after listening. So, hey, that really is a bonus!